Celebrity Bowling is as ridiculously '70s-branded as anything I have seen in my life. Forget Match Game or even the Dean Martin Roasts -- there has never been as much polyester and bad jokes in one place as this.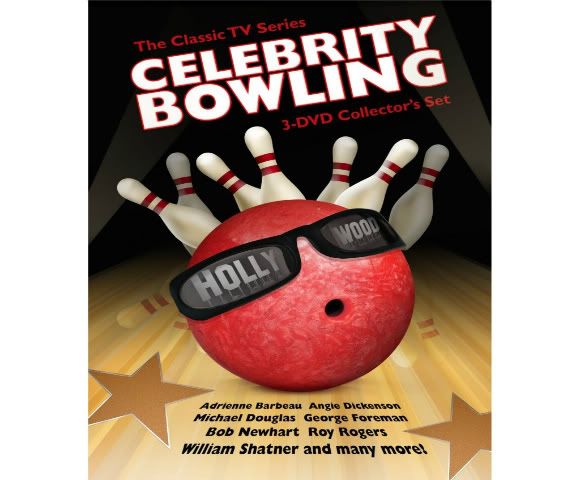 The 1970s were a weird time for everything, and sports were no exception. Pitting pairs of "celebrities" against each other at the bowling alley seemed a natural ratings winner in this era of Big Time Wrestling, roller derby, and Evel Kneivel.
The half-hour program was an offshoot of the original 90-minute charity event, The Celebrity Bowling Classic, which took place in 1969. The series ran from 1971 to 1978 and was hosted by a leisure-suited dandy named Jed Allan. He had a number of professional bowlers as color-commentator sidekicks over the years. Of these, the best has to be the first, Miss Cheryl Comisky. Her insights basically boil down to mentioning how popular bowling is becoming, and this is said so quietly you can barely hear her over the sound of the pins falling.
That is on the rare occasion when pins actually fall. These celebs are the worst bowlers ever, which just adds to the fun. At one point Nipsey Russell has rolled so many gutter balls that he chases one down the lane to try and stop it. Charles Nelson Reilly manages to knock down about two pins over the course of his game, and Alfred The Butler would probably have done a better job than Adam West. Of the men, Roy Rogers is probably the best of the bunch. As far as the females go, Adrienne Barbeau really seems to have the touch. Watching her hit numerous strikes is a treat. Unfortunately for bowling fans, the camera is focused almost exclusively on her breasts every time she goes to roll the ball, however.
Since these are rich and famous celebrities, the prizes go to "randomly chosen" audience members, who we never get to see. You really have to love some of the items up for grabs here too. Personal favorites include an early answering machine that is about the size of a small refrigerator, and a microwave that looks to be straight out of Three Mile Island.
S'More Entertainment has just released a triple-DVD collection of Celebrity Bowling, featuring (I am assuming) the best match-ups of the series. Some of the pairings are inspired. My favorite had to be Donald O'Connor and Rosemary Cloony versus Rose Marie and Morey Amsterdam. A few of the other stars involved are Ed Asner, Gavin McLeod, Leslie Neilson, Susan Saint James, Roy Rogers, Angie Dickenson, and William Shatner. Judging by Jed's hairstyles, it looks as if the episodes are presented chronologically. He goes from a Bobby Sherman special, to a perm that would make Robert Reed proud, to a primo Saturday Night Fever look. The Celebrity Bowling set is modestly priced and runs nearly six hours -- probably all one would ever need. If I failed to mention it before, it is also a hell of a lot of fun to watch.