Quick Take: Chase, "Pilot"
After bearing witness to the stunning Boardwalk Empire, let's just say that Chase wasn't such a delectable aperitif.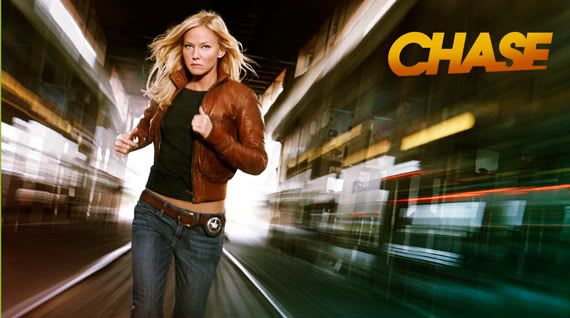 Review: Chase, "Pilot"
(S0101) I was stunned, I was amazed, I was enthralled. I had just born witness to the series premiere of the scary good Boardwalk Empire (read Mike Proper's spot on review here).
Then, in an effort to continue to check out the torrent of new shows that premiered this week, I chased Boardwalk Empire with NBC's Chase.
Let's just say that it wasn't such a delectable aperitif.
Chase is kind of a crime procedural about U.S. Marshals in Texas. Whereas Boardwalk Empire was clearly one of the best pilot episodes I've seen this year (along with the likes of Treme and Justified, and more on the latter below), Chase reminds me more of Rookie Blue's debut in that it sort of tries to be several things at once and fails pretty conclusively on all counts.
So, we'll start with the fact that it's a show about the doings of U.S. Marshals in the South… which sounds remarkably similar to another show that ran its first season earlier this year on FX, called Justified.
That's not necessarily a deal breaker, but Chase is clearly inferior across-the-board. Besides an accent or two with a light twang and a chase scene through a Fort Worth cattle drive, Chase doesn't offer us anything of interest that's specific to Texan or Southern life (such as Friday Night Lights). Immediately, I was forced to compare that starting point with the deeply interesting doings of Marshal Raylan Givens (Timothy Olyphant) on Justified, what with his modern cowboy adventures in the still clannish culture of rural Kentucky.
Moving on, Chase's plot and dialogue (and acting in some cases, specifically Cole Hauser, who plays Jimmy Godfrey) are stilted and generic. So much so that I'm not motivated to say more than the fact that Annie Frost (Kelli Giddish) and her gang of marshalls chase down this vicious psycho and… well, that's it that's worth explaining really. The one bright spot I could find is Amaury Nolasco as Marshall Marco Martinez, though his role is pretty small. Noalsco brought a spark to shows such as Prison Break and Southland, but I fear that his skills will not be enough to turn around this clunker.
Chase also doesn't know where it wants to be in terms of tone. "Light drama" seems to be the closest thing I can figure, what with some banter thrown in here and there and a general emphasis on one-off crime-of-the-week versus some kind of more in depth storylines (at least thus far). But that leaves the show in a no man's land of entertainment where it's not funny, it's not engaging, and it's not really interesting at all.
While I saw through chase scenes which I felt like I had scene a thousand times before, CSI-meets-24 office and crime lab-type scenes, and exposition heavy dronings on, my attention drifted and I thought about how this was the perfect example of a crappy network show. Obviously there's significant budget and resources going in Chase. Maybe not Boardwalk Empire levels, but it seems hard to believe that a major network could turn out such a mediocre product during fall TV premiere week. Then I thought about the mind blowing content being produced by AMC (see: Mad Men, Breaking Bad, Rubicon, etc.) on far more modest budgets, and I realized that it has relatively little to do with money.
The bottom line is that there's more great TV shows on the air than ever before. But this isn't one of them.
Video: Chase, "Pilot"
Here's a preview of Chase so you might check it for yourself:
From Around the Web: Chase, "Pilot"
Hollywood Chicago: NBC's "Chase" is not a "good" show in the strictest sense of the word. It's hokey, rife with stereotypes, and sets up unrealistic situations for its characters in order to facilitate dramatic, suspenseful chase scenes. To protect my honor and integrity as a TV critic, this must be gotten out of the way first: objectively, I can see that "Chase" is not a good show.
Hitfix: There are at least a handful of fall pilots that are notably worse than NBC's "Chase," but there are very few fall pilots that it's actually better than. Does that make any sense at all? It's an issue of attrition almost.