Quick Take: Chasing Mummies, "Discovered"
Because Chasing Mummies is so obviously staged, much of what we see exists somewhere between the enormously dumb and the intensely boring.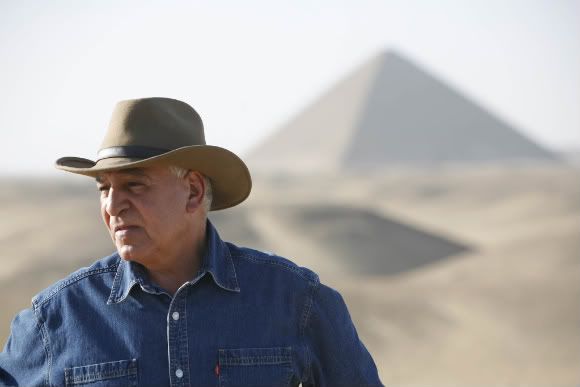 Review: Chasing Mummies, "Discovered"
(S0104) Mostly because TV Geek Army received such a tremendous reaction to our previous coverage of Chasing Mummies (including helping to expose "archeological intern" Zoe D'Amato as an actress and, in a larger sense, how the entire show is essentially staged), I had to delve back into The History Channel's oddball show about Dr. Zahi Hawass and his (staged) "adventures" amidst Egypt's antiquities one more time.
The first thing I was struck by was show host of sorts and executive producer Leslie Greif's little backgrounder about the show that he delivers at the beginning of each episode. I paid careful attention this time around as I was curious to see exactly how Chasing Mummies chooses to define itself. It's noteworthy that the term "reality show" is avoided. Instead, Greif makes it sound as though Hawass invited him and his team to follow him around with cameras, but with the "catch" that Greif and his crew must "become part of the story."
Why would a famous Egyptologist insist that a camera crew become part of the story with regard to a show about looking into the mysteries of the ancient world? Well, I have no idea. Maybe someone can fill me in on this.
Keep this in mind as we learn that "circumstances" in the form of army maneuvers have forced the gang to take a "treacherous journey" through the White Dessert to get to the site on an ancient minaret. Soon, we see. Dr. Allan Morton puking all over the place near a pyramid or some such ancient ruin. Hawass tells us that "the heat in the dessert is very bad." Morton then pukes again and we cut to break on a "cliffhanger" note. Perhaps this is all the suspense that the show was able to manipulate for us this week.
Then someone notices that the food has gone rotten, and it seems the gang is stuck out in the middle of nowhere without anything to eat. I started to wonder if this was becoming a terrible derivative of National Lampoon's Vacation gone stupid. This gives Hawass an excuse to chat up some Bedouins who then "save" them.
Because so much (everything?) on Chasing Mummies is so obviously staged, this entire incident lives somewhere between enormous dumb and intensely boring. Why not instead have a set-up where Greif says to the audience, "This week, we're going to go out in to the dessert to hang out and eat with some Bedouins so we can learn about their culture." That to me would hold some level of actual interest. But that's just one guy's opinion, so what do I know?
With that in mind, events (and feel free to throw quotes around the word if you like) then take the team to Alexandria, where the search for Cleopatra's tomb continues in the depth's off the coast of the city. A lot of other stuff then goes down with delays, and the crew not allowed into certain areas, and Hawass hanging out with former First Lady Laura Bush in Texas and then arguing with people back in Alexandria, but to be perfectly honest I couldn't bring myself to pay all that much attention.
I also must highlight some of the great and insightful comments that came in from the TVGA community:
some girl: sigh. this is definitely timed with the national geographic cleopatra exhibition tour. I am sure they will be at Taposiris Magna with Zawass on the show as well.
Dave: Dr. Hawass WAS one of the most highly-revered Egyptologists in the world. This show - and specifically Zoe - lessons his credibility. I half expected to see McDonald's logos in the graffiti in the pyramid the other night. I'm sure that's next now that I've put the idea out there.
Sue Anne: I was really disappointed in just watching a few minutes of the show. I was looking forward to it, but I'm bummed that History Channel has gone down this road of "staged" reality. And, if Zoe is an actress, she's one of the worst I've seen in awhile.
Steele: Something felt wrong from the get-go; the story's convenient chronology, the photographer's amazing locations, the narrator's timing. That reminded me of watching the old Mutual Of Omaha's Wild Kingdom, with Marlin Perkins. Then comes this skinny, hot babe with botched credentials showing up in her nicely-fitting desert attire. Dude, if your papers aren't right, you're not even gettin'into the Country, much less onto a high-security dig site!
Annie: I graduated from the best arch program in the southeast U.S. and worked for 3 1/2 years. Very sad way for a respected archaeologist to lose credibility. Not to mention the desecration of history. Congrats guys.
Recap: Chasing Mummies, "Discovered"
Army maneuvers have shut down the guys journey to restore an ancient minaret and now they must take a treacherous journey through the White Dessert to camp overnight.