Quick Take: Chasing Mummies, "Stuck"
Is this The History Channel's version of The Hills?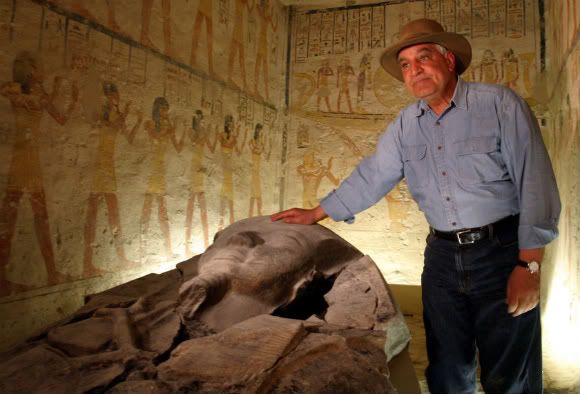 Review: Chasing Mummies, "Stuck"
(S0101) It's clear from the jump that this purported documentary series is in fact a reality series in the tradition of Bravo's Flipping Out. Like egomaniacal but essentially harmless blowhard Jeff Lewis, Zahi Hawass – self-proclaimed Pharaoh and "legendary Egyptologist" – is set up to be the comically abusive centerpiece of the show. "Listen to me, I am not an easy guy," Hawass tells Lindsay Tanner, an Architectural Fellow. "If you are going to come and to be late like this, you're never going to work for me. At all." House flipper Lewis couldn't have said it better himself!
There's a concept in storytelling called "in media res," where you start out in the middle of the action to engage the audience, then you circle back to fill in the gaps and background. To kick things off, Chasing Mummies plops us in the middle of some crisis-like situation where it seems a crew member is stuck in a pyramid, and a chaotic several minutes follows that looks like it could have been out of a bad Nicholas Cage-helmed globetrotting adventure.
We're then told it's "7 hours earlier" and we find ourselves with Hawass leading a restoration of the Step Pyramid in Egypt. Then things get a little bit weirder. An intern shows up named Zoe, who is not the right intern (she's a Canadian from McGill University, when the person on the paperwork is supposed to be on route from France). The thing is though that she doesn't look or feel like an intern. She looks like an actress trying to look and feel like an intern on a documentary / reality show. I found myself thinking, "Is this The History Channels' version of The Hills? Like The Pyramid Hills or something?"
Zoe (conveniently?) turns out to be the person stuck in a tunnel beneath the pyramid later, and everyone scrambles to try to get her out. The handheld camera work here is laughably shaky and rattly and ever changing focus, as though someone told a professional crew, "Make this look like the Blair Witch Project." I can't help but think that this entire sequence was staged with the idea of, "Let's show them the very real dangers of chasing mummies and archaeology, right from the show pilot!" If Zoe's not an actress and this show not severely engineered / scripted, I'd both be surprised and deeply curious about how the hell Chasing Mummies could look this level of manipulated and artificial. We also have executive producer Leslie Greif on screen a lot as the "deal" with the show is that the crew is supposed to be part of the story (why? "Because you don't question the Pharaoh").
That said, things do calm down during the second half of the hour, with Hawass and team razing homes (the residents have been moved to "good land," we're told) built on top of an ancient burial ground (not a Pet Cemetery, Stephen King fans). Our heroes discover an unmolested tomb and unopened sarcophagus, both apparently rare finds in modern Egypt, what with all the grave and tomb robbing that has gone on over the centuries. Whether or not this sequence was staged in some way we have no way of knowing, but it was interesting to get some real historical facts here, such as that the art of mummifying was already in decline during the Greco-Roman period, where this particular mummy dates from (approximately 500 BC). There's also a discovery of a piece of an ancient and beautiful funerary mask earlier in the episode, but because I'm on my guard due to the level of heavy scripting and manipulation, it's hard to feel the oohs and ahhs of discovery that one might if this was a real documentary about ancient Egyptian tombs and mummies.
Video: Chasing Mummies, "Stuck"
Here's a show promo for you:
Recap: Chasing Mummies, "Stuck"
Zahi is supervising the restoration of the Step Pyramid, the oldest pyramid in Egypt. It's there that we meet the new members of his fellowship program: Late to show up, Lindsay nearly loses her job before it actually begins! Meanwhile, Fellowship Coordinator Dr. Allan Morton realizes the erroneous assignment of Zoe to the program. Allan gets an earful from Zahi for his mistake before Zoe begs him for the chance to go inside the Step Pyramid for some photos...after all, she's traveled so far! Zoe goes deep inside the bowels of the pyramid with a cameraman, then gets stuck and locked inside. Zahi races back to Saqqara to open up the pyramid and save them both.
From Around the Web: Chasing Mummies, "Stuck"
Baltimore Sun: The show's website, via history.com, features a "Great Mummy Discoveries" gallery, including a look at a redhead mummy named Ginger. Perhaps the "Chasing" crew will explore whether Daywalkers roamed the Nile.
Monsters and Critics: OSHA officials would have heart attacks at the working conditions that Dr. Zahi's local Egyptian grunts endure, as they bust down precarious stone walls, getting injured in the process.