Quick Take: Chuck, "Chuck Versus the Curse"
Team Bartowski breaks the Internet. Geek rage to follow.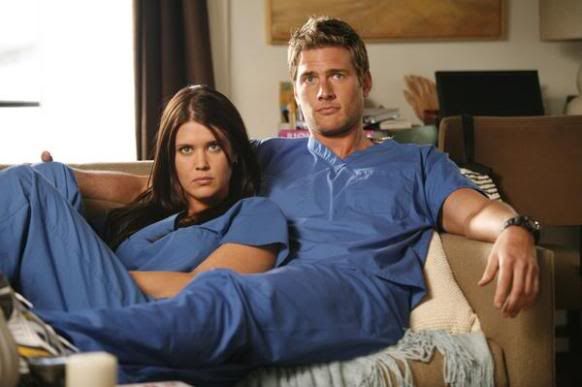 Review: Chuck, "Chuck Versus the Curse"
(S0506) Let's start at the end, where baddie Rebecca Romijn gets her paws on The Omen and uploads it, essentially breaking the internet. I immediately imagine the outraged cries of a fictitious geek hoard breaking the sound barrier all over the world. I'm suddenly gripped with an irrational fear of something similar happening in real life.
Congratulations, Chuck. You've finally managed to unsettle me.
Despite Gertrude conveniently blowing Decker to smithereens last week, Chuck and the rest of Carmichael Industries is still being hunted by the CIA. Beckman warns them via morse code before the calvary arrives and everyone splits: Casey to rendezvous with Beckman, Morgan to wipe Casey's computer at home, and Chuck and Sarah to hide out in one of Stephen Bartowski's safehouses.
However, the most fun in this episode comes from the Woodcombes. Ellie and Awesome plan a romantic evening sans baby and are mistaken as Chuck and Sarah by Rebecca Romijn's CIA crew when they utilize Chuck's Open Table account to reserve a table at a swanky restaurant under the name "Bartowski." Oops.
Initially mistaking the entire abduction as an elaborate game by the other to spice up their normal boring lives (they decide at the beginning of their date to pretend that they are spies like Chuck and Sarah) Ellie and Awesome walk right into Romijn's hands and I was initially worried that this would end up like the season 3 finale. To this day, my personal summary of that episode is "Ellie is dumb and everyone suffers."
Thankfully, Ellie learned her lesson back then. Character development is golden.
I feel like I'm doing it wrong, but as far as Chuck couples go, I tend to find Ellie and Awesome far more interesting than Chuck and Sarah. Ellie and Awesome has been Ellie and Awesome from the very beginning of the series and sure, they're meant to be the mundane alternative to Chuck and Sarah, but, to the writers' credit, their relationship is every bit as fleshed out and detailed as Mr. and Mrs. Super Spy.
And they're just fun. Chuck and Sarah tend to bring the drama. Sometimes its nice just to see a TV couple enjoy being a couple.