Quick Take: Chuck, "Chuck Versus the Hack Off"
An ode to thinking juice.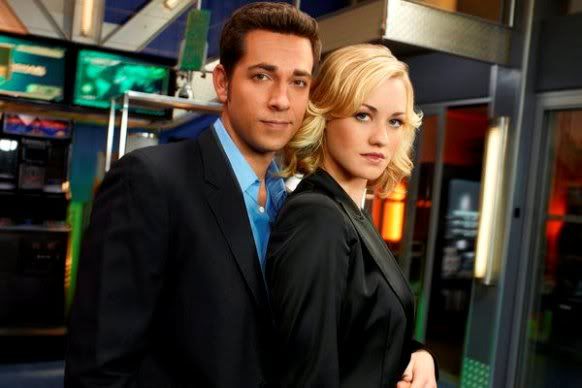 Review: Chuck, "Chuck Versus the Hack Off"
(S0505) My favorite flavor of Chuck Bartowski is geek. From the moment he lamented the way the controller chafes after several hours of intense Gears of War gameplay in the pilot, to his skillful defusing of a bomb via porn website, to every single time he has ever gone undercover as a Nerd Herder to infiltrate a villain's lair, I'm giddy and overjoyed.
I love geeks. They're my people.
"Chuck Versus the Hack Off" delves into Chuck's pre-spy days as a mischievous computer hacker. Morgan asserts that the film Swordfish is actually about Chuck (his old hacker handle was "Piranha") but they don't talk about it because Chuck didn't think that it was a quality film. Morgan warns Sarah to make sure Chuck eats because his coding sessions can get rather intense. Chuck pulls a bottle of chardonnay, his "thinking juice", and gets to work.
Decker enlists Carmichael Industries to track down a wayward hacker who created a computer virus that is capable of basically breaking the world in about five seconds. I was suspicious of Decker's eagerness to work with Carmichael Industries, what with that whole sworn enemies thing, but it all makes sense in the end. Chuck and the gang retrieve the key to the virus and Decker gets their possession of the virus on CCTV. He plans to release the virus, then release the footage of Chuck possessing the virus. Chuck has a dumb moment and asks why Decker would want to frame them.
Chuck, darling, the question isn't why does Decker want to frame you, it's why wouldn't he frame you?
Afterwards, Chuck contemplates the future of Carmichael Industries, and having had a taste of his former geekery in a "Hack Off" with fellow hackers in a ruse to buy Sarah and Gertrude more time to steal the big bag computer virus, longs for his days as the Piranha. He postulates that maybe Carmichael Industries isn't a spy company, but a tech company.
I don't know how serious Chuck is about the possibility, probably not very, but it was an interesting throw back to Chuck's original life goal before getting sucked into the spy routine. Sarah's response was also a well-written line to emphasize her post-marriage identity crisis without being anvillicious about it.
Sarah is a spy. That is her skill set. When Chuck considers changing the focus of Carmichael industries, she asks what her job would be in the new company.
Chuck doesn't have an answer for her.