Quick Take: Chuck, "Chuck Versus the Zoom"
"You think the company doesn't work if you don't have the Intersect?" - Ellie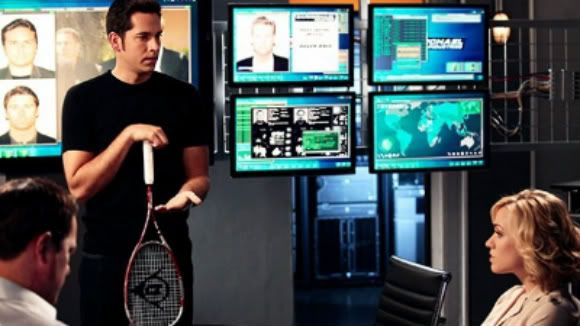 (S0501) Halfway through the final season premiere of Chuck, my brother texted me. You see, Chuck is very near and dear to us. It's that one show that we can sit down and enjoy together, even with 400 miles between us. He actually texted me before the episode aired to remind me that it was coming on, which was fortunate, because I definitely forgot.
See NBC, this is what repeatedly changing air dates does to a viewer.
The mid-episode text was a little less enthusiastic however: "I miss when this show was about the nerdy spy."
I can't say that I disagree. Chuck, both the series and the title character, have come a long way, certainly further than many believed they could go. The pilot remains one of my favorite episodes of anything and my iPod has been fed a steady stream of songs "as heard on Chuck," for the past several years.
Zachary Levi opens the recap of the previous season with "Hi, I'm Chuck," and I'd be lying to you if I denied the fact that I squealed "HI CHUCK!" to my TV last night. I love this series.
But it's time to say goodbye.
My brother misses when this show was about "the nerdy spy" and so do I, but really, Chuck Bartowski is exactly where he needs to be. I miss the guy who saved the world with porn. I miss his awkwardness and his bad hair and his fumbling attempts to woo his bombshell bodyguard…but let's face it, if Chuck was still that Chuck today, I wouldn't be writing this review because the show would have been cancelled (again) around the 3-year mark. The show had to evolve in order to maintain an audience and Chuck had to evolve in order to survive life without the Intersect. I can understand and appreciate that, but I don't have to particularly like it.
Plot-wise, Chuck picks up where season 4 left us: Chuck and Sarah are married, Chuck uses the extensive fortune that the Volkoff's left behind to purchase the Buy More, and Morgan intercepts a gift meant for the recently de-intersected Chuck, inadvertently downloading the Intersect into his brain.
My main problem with Morgan the Intersect is that his ability to use the technology pretty much retcons what has previously been established about the way the Intersect works: Chuck is able to use it because of his ability to memorize huge chunks of information and successfully recall it when something triggers his subconscious. Chuck is special. That's why he was in the running to be cultivated as a CIA asset when he was still in college, thus motivating roommate and former-BFF Bryce Larkin to frame him for cheating, getting him kicked out of school before the CIA could use him because Chuck would "never survive in the field." Chuck's specialness ultimately kick-starts the entire premise of the show and it's an important factor to consider in the mechanics of the Intersect technology. Bryce Larkin wears sunglasses when he downloads the Intersect in the Pilot not to look badass (though pre-White Collar Matt Bomer totally does pull badass off quite well) but because he doesn't want his brain to melt.
So, in short, Morgan's brain should have melted. Unless he's special like Chuck, which I doubt.
That nitpick aside though, Chuck Versus the Zoom is ultimately a promising start to the series' swan song and I feel that it's an entirely appropriate call-back to the Pilot that despite spending much of the hour lamenting his loss of purpose and potential without the Intersect in his head, Chuck saves the day with his Buy More skills.
Our little nerd has come full circle.