Quick Take: Community, "Anthropology 101"
"And so it begins. The greatest relationship ever known." – Jeff Winger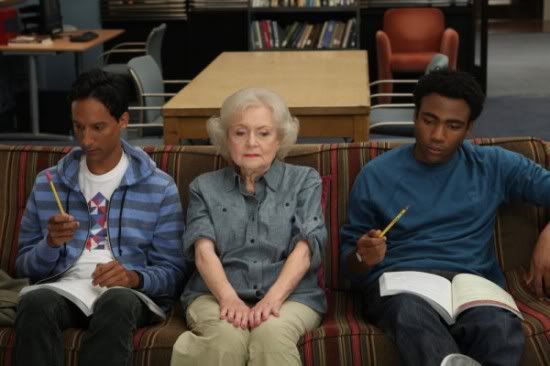 Review: Community, "Anthropology 101"
(S0201) Abed (Danny Pudi) boils down Britta's new star status amongst the students of Greendale Community College as succinctly and pop culturally and brilliantly as ever: she's "the Aniston." After her public declaration at the end of last season (a dazzling episode on both comedic and dramatic levels) that she loved Jeff (Joel McHale), and his subsequent rejection and hookup with Annie (Allison Brie), she has now achieved rock star status amongst the coeds for putting it all out there and braving the world and love that has rejected her, and so on.
And Jeff for his part "doesn't like where this is going" as his status on campus has gone from Big Man to Cold Shoulder.
Meanwhile, the red hot Betty White is in the house as Prof. June Bauer, the gang's new Anthropology teacher. She kicks things off by shooting a blow dart into Star-Burn's, uh, star burn. But the best part of all is Abed and Troy's (Donald Glover) subtle man clap move in appreciation. While the good professor is in mid-lecture (and sipping on some kind of anthropological concoction that involves her own urine), Jeff attempts to turn the tables on Britta (Gillian Jacobs). For as we know, even though Jeff got disbarred as a lawyer and was forced to begin his college career from scratch, maintaining rock star status on campus is his true prime directive. Of course, his power move – a public declaration of his own that he loves Britta – backfires as she calls his bluff.
A perfect shot ensues where an equally disgusted Jeff and Britta lean in for the World's Most Awkward Kiss as a horrified Annie looks on and Shakespeare in Love-esque music accompanies. "And so it begins. The greatest relationship ever known," says Jeff. And Prof. Bauer chimes in that this is making her sick.
Yes kids, Community is back, and it is glorious.
And then, I unabashedly add, it gets even better as a somewhat dramatic scene follows where the gang learns that a) Britta and Jeff slept together (and on the gang's study room table, during the paint ball episode, to boot) and b) Jeff and Annie kissed after the Tranny Dance. Some real conflict emerges as everyone hates on Jeff, and Jeff scrambles to deflect. The scene works because the characters are so well formed: Jeff can reference Shirley (Yvette Nicole Brown) misunderstanding the theme to the Twilight novels and Abed confusing TV from the real world, and meanwhile Troy can claim to think that all cats are girls ("Have you ever seen a cat penis?") and it all makes sense, though in an absurd way, because we're so familiar with the gang. Add on top of that Abed planning a "wedding episode" for Britta and Jeff's nuptials, replete with a George Clooney impersonator and Cranberries-eque singer (I believe?), and it all adds up to a wonderfully messy delight marked by some of the sharpest comedy writing on TV.
Of course, all is well in the end thanks to a well timed speech about the importance of respect by Jeff, followed by Prof. Bauer attacking him with some kind of tribal megaweapon that puts him in the hospital.
Then we get a cliffhanger that even Abed would have a tough time dreaming up: Senor Chang (Ken Jeong) goes all Smeagol and we learn of his scheme to tear down the gang from the inside for ruining his life and putting him, like Jeff, back at the beginning of his college career.
With this much fun and antics going on though, should he really complain?
More thoughts on "Anthropology 101":
"And we're back." – Abed
Amazing opening shot scrolling through the gang's bedrooms as they arise for a new semester at Greendale Community College. Some thoughts: Gotta love Troy's Spider Man pajamas. And even better: Pierce's Chevy Chase poster in his bedroom, circa Fletch or so?
"You should know, we didn't just kiss. Technically, we Frenched." – Annie to Jeff
Reason #1,307 why Community rules: Star-Burns (Dino Stamaopoulos) adding a top hat as a new affect this season, because he "craves identity beyond" the mere star burns, according to Abed.
"Abed, why are you mining my life for classic sitcom scenarios?" – Jeff to Abed
"Consider yourself Chang'ed." – Senor Chang
"Okay, more of my own urine for me!" – Prof. Bauer
"And so it begins. The greatest relationship ever known." – Jeff
"I don't understand. Is this you being 'meta'?" – Shirley to Abed
"I now pronounce you canceled." – Abed
I like that Jeff and the show deals with the fact that he is obviously way older than Annie, so even if they're not doing anything illegal (we assume she's supposed to be around 19 at this point as a second year community college student), they would indeed cause some waves in the group and in the world at large by parading around a romantic involvement.
Troy runs a Twitter profile called Old White Man Says, where he chronicles new roomie Pierce's every absurd and racist statement. And of course you can find it live on Twitter here. To whit: "I'll show you the tool that's most important to our survival… but fair warning, it's my penis."
Video: Community, "Anthropology 101"
Check out the episode in full from Hulu, while available: