For Community fans, the last three months has truly been the winter of our Dean-less discontent; the darkest timeline for sure. On an unexpected hiatus since the beginning of December, Community returns triumphantly to its time slot (Thursday nights at 8:00 (EST/PST) proving that even Tina Fey's 30 Rock can't make that competition overloaded half hour a winner. So with a little bit of cockiness (see, it's not them!), Community is back tonight with some underdog fire in its belly buoyed by a whole lot of fandom ardor and support during its time off-air. Sure, everyone is still terrified that the show will get cancelled, but the odds are looking better that a fourth season will indeed happen.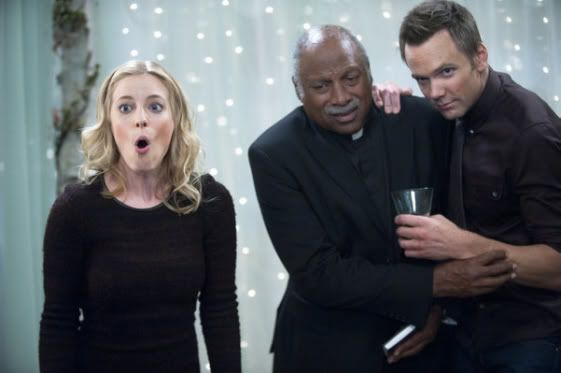 In that positive spirit, TVGA talked with Joel McHale, who plays Jeff Winger the ersatz leader of his Greendale Community College study group, about what we can expect from the new episodes that will close the season and what makes him laugh on the show.
Community got so much fan support during its surprise hiatus on social media globally. What are you hoping that means for the show's return?
Joel McHale: The great thing is that the groundswell was seemingly huge and I pray that that reflects in the people watching it…I pray to God.
Tonight's episode, "Urban Matrimony and the Sandwich Arts," features wedding cynics Jeff and Britta in a screaming match in front of an altar. Looks like one to add to your highlight reel?
It's so funny. When we're yelling at each other I was like 'What about babies?' And she goes "What about them?" And I say 'How many?' And she goes "Pick a number, dick!" It's so funny and every time I see it I laugh. And it's weird because I've shown my kids that trailer, and they're three and seven, and they keep wanting to rewind that moment. It should be a crime that someone is as beautiful as Gillian Jacobs is as good of an actor as she is. She can nail jokes and she's amazing.
Creator Dan Harmon says the new episodes are dark, but some of your darkest episodes are the funniest. Do you agree?
Yeah, if you look at one of the darkest episodes last year, Dungeons and Dragons, it was literally dealing with a guy who was giving away his stuff because he was going to commit suicide that was basically like if Dan was in a dunk contest and he did like a 780 in the air and slammed it with one hand and then with the other hand he was taking a photo of himself with his camera phone. Dan and the writers can take those things and make them absolutely hilarious and yes, there's going to be a bunch of that stuff [coming up].
Is Joel going to hook up with anyone in the end of the season like he's done in seasons past?
He's going to hook up with Leonard. And I'm going to get together with a flag team. No, Jeff's romantic life in the second half of this season it's not a huge topic. But there's always stuff going on with Annie and Jeff.
What episodes are you excited about fans seeing?
I know that studio is really excited about the Law and Order [themed] one. I'm really excited about the pillow one. I'm really excited for that one just because it will be totally different than anything else.
Any shows you'd like to see spoofed in the series?
I would like to spoof Hillbilly Hand Fishing. I don't know if you've seen Hillbilly Hand Fishing but these hillbillies hang in the river and then they reach into mud holes and pull out catfish. And then they get people to slide their hands down and it very much sounds like they're teaching them to jerk off, so that would be a great episode!
What's your favorite Jeff and Pierce scene?
Boy, there's a lot of them but one that stands out is when he and I are screaming at each other in the Dungeons and Dragon's episode and in the middle of it I'm yelling at him because he's being terrible to this unstable kid, Fat Neil. And just out of blue [Chevy] screams "I can still get erections!" My character was like "What?" And then we just move onto the next part of the argument.
Which of your fellow cast members get you to break the most?
I'm going to say it's a three way tie between Donald Glover, Jim Rash and Ken Jeong. They make moments out of things that I didn't think was possible. They're just different. They're cut from a different mold. I have trouble getting through a lot of stuff and once again it's a great problem but there's some things in an episode coming that Ken Jeong and Jim Rash do that I can't look at them while they're doing it or I will ruin the scene.