It's a little embarrassing to admit, but I -- a person who writes regularly about television -- have never seen an entire episode of The Big Bang Theory, arguably one of the most popular sitcoms of the past half-decade.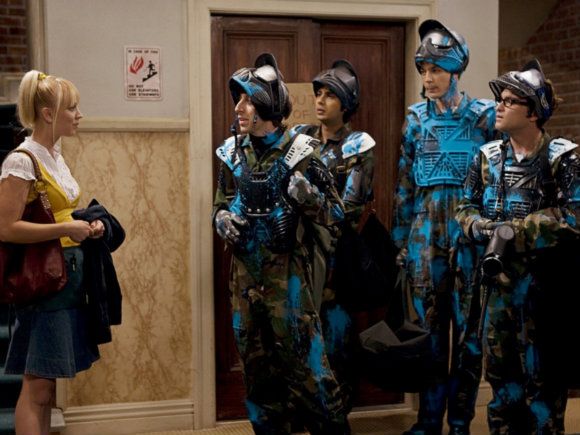 It's not that I looked down on the show and the people who rave about it, and thought that CBS and the producers were greedily cashing in on the current trendiness of nerd culture... Okay, actually that's pretty much exactly it.
It's not my fault though. I blame Chuck Lorre. If not for his antics with Charlie Sheen and the sleaziness of Two and a Half Men, I might have given The Big Bang Theory a try years ago. For whatever reason, the sexist cynicism I associate with Lorre and Two and a Half Men just wasn't present on The Big Bang Theory (at least not on "The Decoupling Fluctuation," which aired tonight). Lorre can write a snappy joke, there's no denying that. And without the baggage and general grossnesss that surrounds Two and a Half Men, I can now see that he's capable of making a perfectly pleasant sitcom.
Here are a couple of things I took away from my first experience with a full dose of The Theory. What? No one calls it that? Sorry.
I can see why Jim Parsons won two Emmys.
Is he funnier than Louis C.K. or Larry David or even Alec Baldwin? Probably not, but he's still damn funny. And his Sheldon character is infinity more accessible than the characters played by those other three. Plus I'm a sucker for a good Texas accent.
Being a physicist is easy.
Apparently all you do is watch movies, play some sort of Magic: The Gathering-esque card game with your bros, and tap leisurely at the keyboard of a laptop while bugging the shit out of your best friend.
Johnny Galecki -- what's the deal with this guy?
I thought he was supposed to be one of the leads of the show? Was "The Decoupling Fluctuation" just a Leonard-light episode? It seemed like he only got like 5 lines, and none of them were funny. Parson steals every scene he's in, what role does Galecki normally play within the structure of the show? Is he more than just Parsons straight-man? I feel like he must be.
Living in the same apartment, yet in different bedrooms, as your girlfriend is weird.
Why don't Leonard and Penny share a bed? Let me guess: Penny has a wicked case of night-farts?
Cosmonauts love fecal humor.
No insight to add here, it's just a fact. Like gravity. Or magnets.