Quick Take: Cougar Town, "A Thing About You"
"I'm feeling good about Jayson. It's Grayson and Jules. I combined our names like the way they do with celebrity couples." – Grayson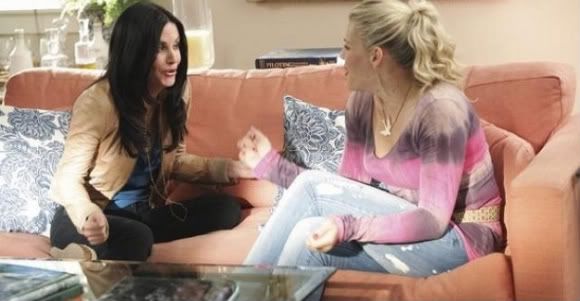 Review: Cougar Town, "A Thing About You"
(S0212) Laurie asks to stay with Jules while Travis looks for romantic advice and Ellie finds her soul mate in this week's Cougar Town episode. While the gang is discussing whether men or women make better friends, Jules declares that she would do anything for Laurie and Ellie. Right after that moment, Laurie asks Jules if she could stay with her for the weekend, explaining that her apartment is being re-painted. Jules then of course feels like she has no choice but to say yes.
Kirsten tells Travis that her last boyfriend did romantic things with her, one being that he took her on a trip to Paris. She gives him the hint that she wishes he would be more romantic due to the fact that on their last date they watched Season One of Community (nice shout out, and to another network!) as well as nine Emilio Estevez movies, with Travis referring it to the "Estevez-festevez." It worries Travis that he can't live up to expectations so he decides to go to Grayson for advice, which causes Bobby to feel a little unhappy.
A new wine bar opens up in the plaza and the ladies decide to try it. After Wayne, the wine guy, disses Laurie and Jules, they vow not to go back, but Ellie starts to go in secret. She and Wayne realize they both have a love for wine and making fun of people. When Wayne makes fun of Jules, it is the breaking point for Ellie and she rips into Wayne. The best part of this scene was Andy showing up to watch because he gets turned on when Ellie takes someone down!
After one day together, Jules is fed up with Laurie. Jules goes to her real estate agency (when does she actually work?) just to get away from Laurie for a bit. When Laurie shows up, Jules decides to be honest and tells her that she is annoying her. Laurie admits that she had been feeling left out since Jules has been with Grayson and decided to lie about the painting of her apartment so she could spend some time with Jules. Grayson comes over to help Jules with the problem, but Laurie seems completely fine with what happened and leaves.
Laurie comes over the next day and tells Jules that she knows she is loud, but she is comfortable in her own skin. Jules tells her that she is sorry about what she said and wishes she could be more like Laurie. No matter how annoying Laurie is, it is always nice to have a friend like her around. Jules needs Laurie to help her realize that it is okay to be comfortable being who you are.
The guys try to give relationship advice to Travis, but he doesn't like any of it. Bobby later invites Travis to his boat and tells him he knows what to do. When it gets dark out, Bobby shows Travis the boat all lit up with candles and lights. Travis and Kirsten sit on the boat under the moonlight as Bobby thanks Grayson for the advice and for letting Bobby take the credit. I am glad that they didn't go towards a Grayson/Bobby rivalry because it wouldn't really fit. This group really cares about each other no matter what happens and it makes Cougar Town better for it. In the end, the gang ended up at Wayne's wine bar, with Ellie forcing Wayne to serve them, and they all promised to be friends for life.
This episode was more emotional than it was funny, but it was still a good one. It showed how much this group cares about each other with Ellie sticking up for Jules and Grayson not wanting to ruin his friendship with Bobby. The best scenes go to Busy Phillips as the house guest from hell, Jules and Grayson deciding on a mash-up name like a celebrity couple (please don't go with Gruels) and Carolyn Hennesy showing up for a "Barb trap."
Video: Cougar Town, "A Thing About You"
Check out the episode in full from Hulu, while available: