Quick Take: Cougar Town, "Counting On You"
"You should probably tweet about your problems." – Laurie (Busy Philipps)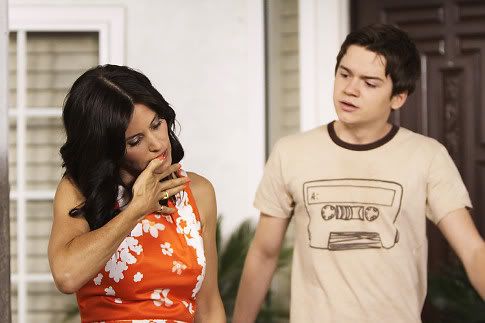 Review: Cougar Town, "Counting On You"
(S0117) The gang takes on the classic question this week of whether men and women can be real and true friends without the dynamic of sexual attraction and tension taking over. However, it's done in such a fresh and quirky and fast-paced style (Cougar Town-style?) that it feels new all over again. The tie-in of the slow build romance of Grayson (Josh Hopkins) and Jules (Courtney Cox) into this theme is well played.
There's also a slight uptick in the slapstick vibe, perhaps to counter the potentially "heavier" topic of men and women and adult relationships. But it all works.
Bobby (Brian Van Holt) and Travis (Dan Byrd) do some male bonding meanwhile, while Ellie and Andy deal with Andy's wanting to explore his freedom by getting a motorcycle. Cougar Town has picked up steam during the second half of its freshman season and is now one of the better comedies on television. Very glad it'll be back for a second run.
More thoughts on "Counting On You":
Love the talk of "gay traps" with the gang wrapped in snuggies (blumphies?).


"You should probably tweet about your problems." – Laurie (Busy Philipps)
Like how Ellie (Christa Miller) tells Andy (Ian Gomez) to shut his churro hole during an argument.
Andy calling Ellie from Bobby's boat to announce he's moved out for a few days whilst wearing the snuggie: extra hilarious.
Totally was thinking same thing when Laurie asks new guy Tom, "who are you?"
"Travis, you bitch like a man." Bobby to Travis in a touching dad-son moment.
Recap: Cougar Town, "Counting On You"
Jules tries to prove to Grayson that men and women can have platonic friendships; Andy upsets Ellie when he buys a motorcycle from Laurie.
Video: Cougar Town, "Counting On You"
Full ep, catch 'er on up on the Hulu:
From Around the Web: "Counting On You"
TV with Alan Sepinwall: Another fun, loosey-goosey episode of "Cougar Town," albeit one that pushed a little too hard on the Jules/Grayson sexual tension thing, with two of the three stories there to nudge them closer together.
TV Squad: Ellie constantly bosses Andy around, so it was nice to see him finally draw the line somewhere. I was wondering when or if he was ever going to stand up for himself, so this was a great way to show that he actually has some sort of backbone.