It's been a long nine months since patient fans saw their last fresh episode of ABC's endearing comedy, Cougar Town, and that was a big worry to the show's creator and showrunner Bill Lawrence, who has been sweating over his show's scheduling limbo for months.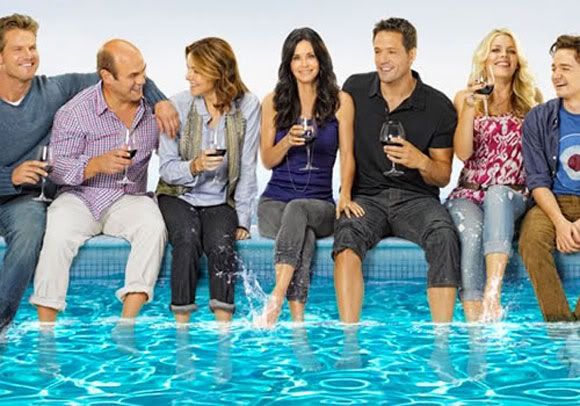 Despite its dedicated fandom and critical support, Cougar Town has remained the red-headed step-child of ABC's comedy lineup. A lot (including Lawrence) of the blame is due to its off-putting title, some to its first season growing pains, but being off the air for almost a year doesn't help build momentum either.
Taking some lessons, he learned as a frequent tweeter and social media aficionado, Lawrence and co-creator Kevin Biegel decided to appeal to the show's ardent fans to get the word out about Cougar Town's continued existence, and then ABC's last minute mid-season scheduling for the show to return on Valentine's Day (Tuesdays) at 8:30 pm (EST/PST).
With his whole creative team and cast on board, Lawrence and Biegel set up viewing parties around the country, offering fans a chance to email them for tickets to a local bar with open bar where attendees would get to watch a few brand new episodes from Season Three and hob nob with various writers and cast from the show. It was meant as an opportunity to take the show's entire future out of the hands of ABC's apathetic programming team and get some groundswell viral marketing behind the season premiere. It turned into a huge love fest for the show with the viewing parties selling out at each location and fans spreading the generous Cougar Town love to the social media masters. Will it save the show and give it the boost needed for a renewal? Guaranteed Lawrence and company will be chewing some nails waiting for the overnight ratings on Wednesday morning, but if the crowds of people attending the events, like those we met at the Philadelphia Party held on Friday, February 10th at The Field House Bar, are any indication there might be some serious hope for the show.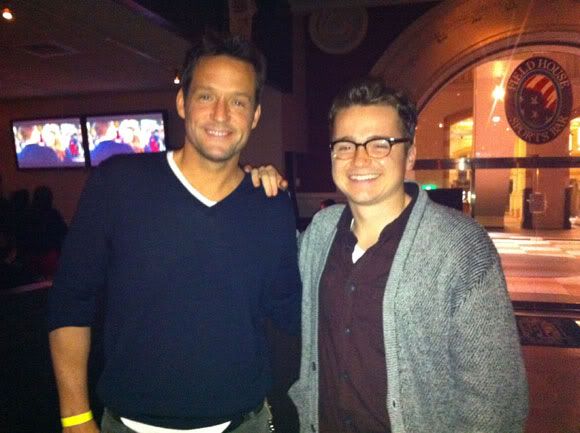 Actors Josh Hopkins (Grayson Ellis), Dan Byrd (Travis Cobb), and stalker neighbor Tom (Bob Clendenin) were all in attendance in the packed Cougar Town designated section of the bar. They mingled generously with star-struck fans and enjoyed their yellow open bar wristbands like the rest of us swapping stories about the new season.
We talked exclusively with Hopkins for a few minutes and asked if Bill was really serious about changing the name of the series last summer before they went into production for the third season. Hopkins confirmed it but said it remained because "ultimately in this new age of DVR's we couldn't change it because people would lose their season passes and that would hurt us."
Asked what these viewing parties have meant to the cast and crew, he said, "It's been nice because these fans have been very vocal about us being gone so that's made us feel good. We're happy to do this and hope people find us again. ABC has kind of pushed us around a little bit, but I do think that they believe in the show and they like it. We get great feedback from them but we're caught in the way we've been shuffled. We hope they come back."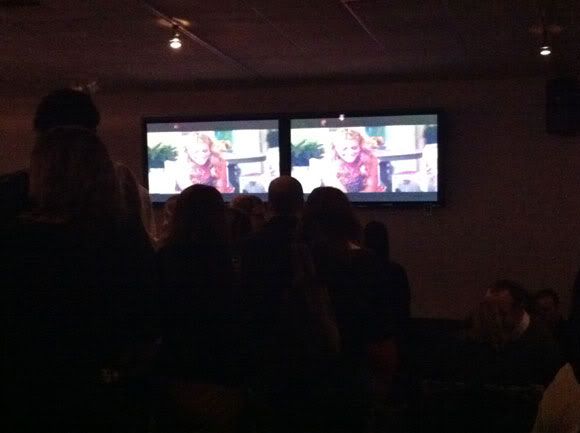 Two Season Three episodes were screened for fans: the season premiere "Ain't Love Strange" and the fifth episode featuring Scrubs alumni Sarah Chalke as Bobby's new amore and crossover character Ted (Sam Lloyd) and his Blanks a cappella band. Without spoiling much, the premiere was a great return to form picking up where the characters have been since the season finale. Jules spends most of the episode obsessed with being too predictable and boring for Grayson, which turns into a hilarious song that gets under her skin even more. Also look for a relationship changer in the last moments of the episode that fans will enjoy.
[Spoiler alert] We did ask Josh and Dan to tease what we can expect from their characters this season and Hopkins shared that, "Grayson gets engaged and possibly married. There are too many shows that do the "will they, won't they" thing so how about the "I do!" That's got comedy in it too instead of waiting around so I'm excited." Byrd laughed and said, "I wear an episode for the first eight episodes." Now, doesn't THAT make you want to watch?