Quick Take: Covert Affairs, "Around the Sun"
"All I ever wanted was a job with free food."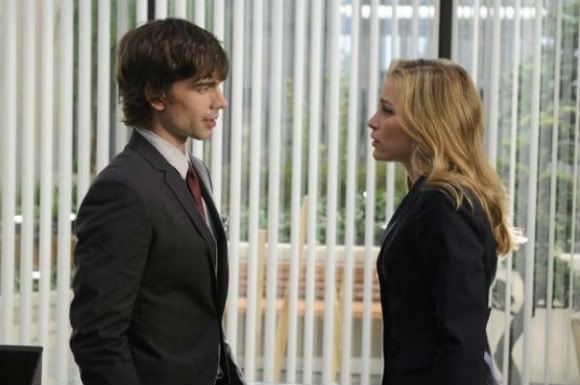 Review: Covert Affairs, "Around the Sun"
(S0205) Covert Affairs is at its best when the line between ordinary and extraordinary is blurred. I've said before that I like Annie Walker. I like the fact that she's a sort of "everygirl" who just so happens be a secret agent. It's when the series appears to concentrate too hard on one of these poles that my thoughts turn to the negative. This contrast is what made early seasons of Chuck so endearing and it's what makes celebrity gossip so interesting. Quite honestly, I don't care who Katy Perry's hair stylist is, but I'm fascinated by the idea of what she could possibly want to buys stuff from a 7-11.
So, of course I was delighted when Annie Walker, International Woman of Mystery, found herself late for work in the opening scenes of Covert Affairs' latest offering. The flashing 12:00 on her clock, the mussed hair, the hasty parade of stained blouses, and the island of mismatched shoes — it was glorious. I felt Annie's pain. The crummy parking, the crowded coffee congregation of crabby co-workers, the slipping into the office and praying to any higher power that might be listening that your boss doesn't see you scurrying into your cubicle, oh Annie, come here and give this sister a hug.
I really dug the song played underneath it all too. Anyone remember back in the day when the WB would have those post-episode spots like, "Tonight's episode of 7th Heaven featured music by the Barenaked Ladies and Matchbox 20." In retrospect, they were probably the result of some unholy union between network and music executives out to warp the impressionable minds of circa-1998 tweens like yours truly, but they were still helpful. I'm a lazy music fan, okay?
The song was "Changing," by the Airborne Toxic Event, by the way. What I lack in musical knowledge (or taste) I make up for with mad Internet skills.
Anyway, "Around the Sun" takes Annie from her disastrous morning to, all things considered, a pretty disastrous mission. I mean, it wasn't stranded-in-Argentina disastrous, and at first Wonder Woman Annie was pretty excited about going undercover at NASA. Apparently she's a Space Camp alum and eager to stretch her geeky legs with the eggheads. She bonds with Will, an underpaid and underappreciated satellite guy who sincerely loves everything about working at NASA. Oh, and he just came out of a crummy divorce. Also? He has this geeky gangly teenage son who idolizes him and wants Annie to be his new mommy. As soon as Charlie-the-Dad-Worshipping-Teen-Genius started making soulful looks in Annie's general direction, I knew this was going to end badly.
But not as badly as it could have ended. And there was a sweet hand-to-hand combat scene between Annie and Assassin-of-the-Week that reminded us all that even though Annie just spent forty minutes agonizing over busting Dad-of-the-Year for espionage, she can pull it together in time to slam a foe's face into a steam pipe.
"Around the Sun" isn't entirely off the hook, however, as the real motive behind Will's dealings with the Columbian rebels is gradually revealed. The whole "I didn't know what I was doing!" defense smacks a little of last season's "Walter's Walk, though the side-plot involving Auggie's promotion to an overt role in the DCD and his replacement by Reva (Jaimie Alexander from Thor) as Annie's tech operative was an interesting exploration of his role in the CIA. We saw him falter, then excel in his new, prestigious role, only to return to his old job before end credits rolled. My reaction to his decision is still mixed. As much as I would have missed Auggie guiding Annie through her missions, Reva was a surprisingly fun replacement with her social awkwardness and initially rocky relationship with Annie. A former R & D project manager, Reva was even more of a fish out of water in the CIA than Annie initially was, and their brief moment of bonding over Joan's penchant for making the new girl cry cemented Annie's status as a seasoned veteran in her job. We are finally starting to see Annie evolve from a hapless rookie to a mentor of sorts.
Despite Reva's apparent departure after Auggie's return, if next week's preview is anything to judge by, she's already returning to a prominent role. It looks like The Odd Couple meets Xena and finally, finally, I'm excited about this series. I'm definitely crossing my fingers that the Adventure Girl Action Hour continues, but I'm still hesitant to hold my breath.