Quick Take: Curb Your Enthusiasm, "The Hero"
"I was trying to elevate small talk to medium talk." – Larry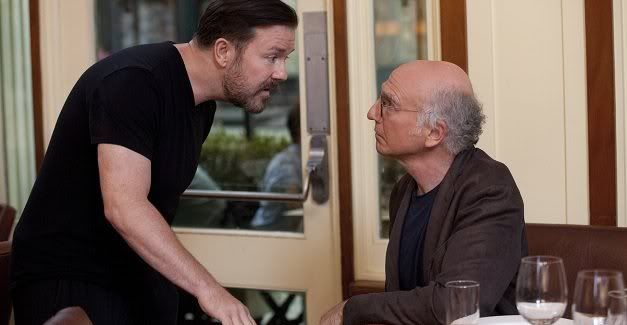 Review: Curb Your Enthusiasm, "The Hero"
(S0806) Picking right up where "Vow of Silence" left off last week, Larry, Jeff, and Susie are on the plane bound for New York City. Larry immediately rubs his pretty seat mate, Donna (Samantha Mathis), the wrong way by offering her a mouthful of his disappearing Pinkberry. He's dead in the water before they take off. Larry only redeems himself when on the way out of the coach bathroom, he accidentally trips on his extra long shoe laces and takes down a belligerent drunk harassing the flight crew. Only Larry can twist clumsiness into a heroic moment, so he lets the passengers and Donna be impressed by his take-charge, selfless actions. Of course, Susie sees through his heroism the second she sees him tie his shoelaces post-incident.
In New York, Jeff and Larry see comedian Ricky Gervais also taking lunch in the same restaurant, and in a move to try and woo him as a client, Jeff sends the waiter over with a bottle of wine. However the waiter (obviously an Extras and The Office fan) lets Gervais pick a $300 bottle of wine, much to Larry and Jeff's chagrin.
Later that night, Larry and Donna arrive at the Garlin's dinner party and lo and behold Larry's new nemesis is also there... hellooooo, Gervais. The two comedians engage in a masterful riff on their narcissist personas as they smirk at one another and volley passive aggressive insults about the other's "generosity" and gift-getting expectations. Susie then separates the couples so everyone can "mingle" and puts Donna and Ricky at the head of the table with her, while Larry is relegated to the other end of the table with boring Hank (the droll Chris Parnell). Larry is so incensed that he is not at the "cool" end of the table, that he goes after Hank with abandon, grilling the poor man about his sex life and other personal topics. It's classic David and the flustering of Hank sets up the climax that comes the next night after a performance of Ricky's three-hour dramatic stage show, Mr. Simmington.
Insulted by Gervais' cheapness and the revelation by Susie in front of Donna that he tripped on the plane because of his shoelaces, Larry is just bucking for a fight. When he then sees the comedian and Donna heading to the subway together, it ends in a brilliant showdown replete with subways thugs, a throw down via crusty Italian bread, and yet another round with Larry's damn shoelaces.
Gervais (an admitted super fan of Seinfeld) and David are pitch perfect foils and create an even playing field of obnoxiousness that is rarely achieved on the show. Usually Larry is being such an ass you feel bad for his unwitting victim, or occassionaly on the flip side, he's being so outrageous that you can't help root for him as in Vow of Silence. But with Gervais and David, they achieve an equal measure of cluelessness and self-serving audacity so it's a joy to watch the stalemate. Let's hope Mr. Simmington gets a long Broadway run so we see Gervais and David square off again soon.