Has television ever produced a better villain than J.R. Ewing (Larry Hagman)? I don't think so. Dallas aired from 1978 - 1991, a long run by any standards. The most famous episode occurred with the classic "Who Shot J.R.?" cliffhanger in 1980. It was an incredible cultural event, and became the highest rated TV show of all time, until the final episode of M*A*S*H took the number one spot a couple years later.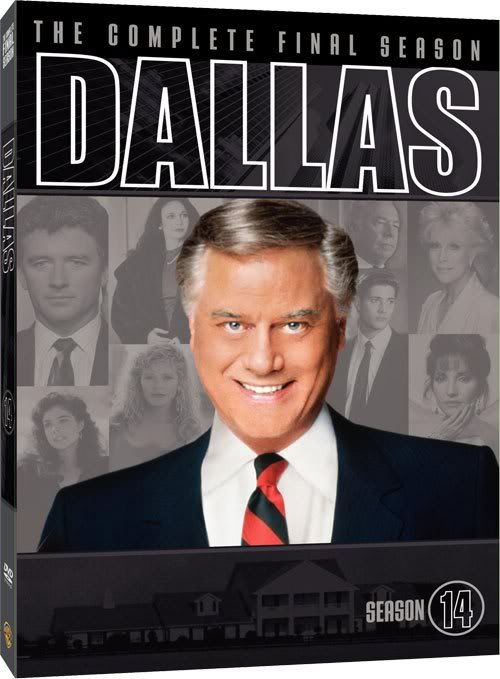 It hardly mattered though, as Dallas had already made its mark as the stuff of TV legend. And in 1980, they still had 11 years to go. As fans know, there was so much more to the program than that landmark moment. The show may have revolved around the marvelous machinations of J.R., but it was the characters around him who made you even care at all. Many of us watched just to see what his arch-rival Cliff Barnes (Ken Kercheval) would get up to next, and how inevitably badly it would go wrong, thanks to J.R.
Many fans (including myself) stopped caring after Season Eight (1985-1986). This is the so-called "dream season." You watch an entire year of the show with the family trying to deal with Bobby's sudden, unexpected death. Then the opening shot of the first episode of Season Nine finds Bobby back, and the entire previous year's worth of storylines were revealed as just being a dream of wife Pamela's (Victoria Principle).
In retrospect, the fact that Dallas "got away with it" was the beginning of the end. A lot of people simply stopped watching, as the ratings reflect. There were other, much hipper shows just coming around. I think of L.A. Law in particular. As it is with all TV programs, the sad demise is always part of the script.
This is why I found the fourteenth and final season of Dallas (1990 -1991) so interesting. They went out on a pretty high note. First off, we find J.R. locked in a mental institution, when yet another of his ridiculous schemes backfired. The first five episodes of the season deal with this plotline, and for the first time, one actually finds sympathy for him.
It was a brilliant ploy, but the story concerning Bobby Ewing on his honeymoon in Paris is even more compelling. In an "only on TV" plot, his new bride April Stevens (Sheree J. Wilson), is kidnapped in a series of events culminating with the attempted assassination of OPEC officials.
There is a beautiful piece of TV symmetry achieved here. The casting of Susan Lucci, who will be forever known as villainess Erica Kane on All My Children, is the leader of the scenario. Her goal is to pose as Bobby's new bride. The denouement finds April dead (among others), when Bobby finds out what is really going on.
Things bog down a bit after such a dramatic opening to the season. Predictably, both J.R. and Bobby Ewing are set on avenging the wrongs they had suffered. It also becomes fairly clear that everyone knew this leading up to the end. Towards that point, we find everyone in J.R.'s life leaving him, one by one. "Good guy" Bobby Ewing finally comes to grips with his pain, and the fugitive Lucci even returns and gets hers, although in a very unexpected way.
Episode 21, "The Decline And Fall Of The Ewing Empire," is one of the best of the entire thirteen-year run. A swaggering (and very drunk) J.R. is in the huge Southfork mansion all alone. Although a lot of people had already left the series, the sad death of Jim Davis (1909 - 1981), who played patriarch Jock Ewing, hangs over almost every episode. When J.R. pulls out a pistol with a case inscribed "Jock Ewing," the significance is very clear.
The episode ends with a distraught, disturbed and (seemingly) suicidal J.R. checking the gun for bullets. The grand finale, "Conundrum," was a special two-hour show, and originally ran on May 3, 1991.
It is a strange ending for the series. In an obvious nod to It's A Wonderful Life, Joel Grey appears as (we are led to believe) J.R.'s guardian angel, Adam. The writers had a lot of fun with this one, and bring back many old characters for one last round. J.R. is shown what the lives of the people he touched would have been like without him.
Instead of being the good, upstanding Ewing brother, Bobby is shown as a degenerate gambler living in Las Vegas. J.R.'s long-suffering wife Sue Ellen (Linda Gray) is a successful soap-opera star. Two of my favorite supporting characters are given theirs as well. Half brother Ray Krebs (Steve Kanaly) is doing menial jobs to support his three children and wife. J.R. feels sorry for him at first, until he sees the absolute love and devotion Ray gets at home.
Then there is the life of Cliff Barnes. Why Ken Kercheval never received the praise he deserved throughout the run of the series is beyond me. He lights up every scene he is in. His vendetta against the Ewings was a running theme throughout the series, as he (mistakenly) thought Jock Ewing was responsible for his own father's early death.
In this alternate world of Dallas, Cliff had pursued his law career into politics. And when we find him at the breakfast table with the family, he had risen all the way to Vice President. J.R. gets to see his nemesis at a dinner party, where he gets a phone call informing him that the President had suffered a stroke. We leave Cliff Barnes as acting President of The United States.
We return to Southfork, where Adam has transformed from his conservative, grey suit into a well-tailored, and very red suit and tie. He then begins goading J.R. with the words "Do it, do it." We see Bobby run into the house, hear a gunshot, and watch Bobby say "Oh my God." In the Dallas universe, we know that it could have been anything.
This is where the original run of the series ended.
There are no extras of any kind included, which is just as well. I like the thought that maybe J.R. actually killed himself, or the gun misfired, or even that he shot a burglar, or… The possibilities are endless. I think leaving the ending open to interpretation is a wonderful way to end the series that brought the "Who Shot J.R.?" phrase into the common vernacular.
Even though comparatively few people were watching at the time, the final season of Dallas is a pretty good one, and unquestionably the best of their later years. Fans will buy it regardless, but I think even those who are curious about the whole "Who Shot J.R.?" phenomenon will find something to enjoy here.