Quick Take: Damages, "I Look Like Frankenstein"
"Reputations die hard." – Arthur Frobisher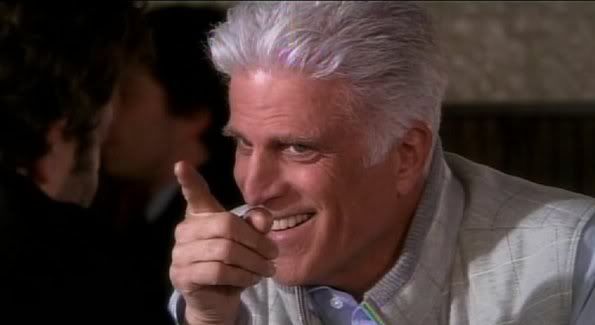 Review: Damages, "I Look Like Frankenstein"
(S0308) Again with the creepy imagery involving the Statue of Liberty? I'm thinking back to the blood drenched crown that was shown over and over during flash forwards during Season One. Maybe it's supposed to tell us something about the irony of living in a land governed by laws, or lawyers, or something?
It feels like we haven't seen Arthur Frobisher (Ted Danson) or Michael Hewes, Patty's (Glenn Close) in quite some time. Danson is always great, and fun to see him as a reformed tycoon who is now focused on wind power initiatives.
And you knew that when Michael bumped into Ellen (Rose Byrne), revealing his pregnant girlfriend (I think?), that the news would route back to Patty quickly. And we know that Patty doesn't deal with surprises all that well. And therefore it's satisfying in a nasty kind of way to see Patty put the screws to the girl to get her out of Michael's life.
We also learn in the flash forward that Ellen was planning on starting a law firm with Tom (Tate Donovan), and at least ostensibly denies to the detective that she wasn't having an affair with him. More reason for Patty to be involved in Tom's death, no? But who was driving the car that hit Patty?
In any event, the complex puzzle involving the car crash, Tom's death, the dumpster, Ellen's purse, Danielle's death, the Tobins, and Winstone is starting to come into focus.
This is one show with no shortage of things going on. But I dig!
More thoughts on "I Look Like Frankenstein":
"Well, if you didn't do it, who did?" – Leonard Winstone (Martin Short) with reference to Daniel Marchetti's murder. Later in the episode we find out… a nasty little web the Tobins are weaving.
"Reputations die hard." – Arthur Frobisher. Maybe this tells us that a) people can't change and b) especially on this show?
"Consider this the carrot. Believe me, you don't want the stick." – Patty Hewes
A lot of that "one more question" thing circa Colombo going on in this one.
Video: Damages, "I Look Like Frankenstein"
Here's footage of Glenn Close and Ellen Byrne (didn't know she is British?) discussing Season Three at the opening night premiere:
Recap: Damages, "I Look Like Frankenstein"
When Carol Tobin vanishes, Patty and Ellen have to track her down. Arthur Frobisher returns to launch his new Foundation.
From Around the Web: Damages, "I Look Like Frankenstein"
TV Squad: My favorite scene of the night had to be when Ellen congratulated Patty on her upcoming grandma-dom. You knew that Ellen knew that Patty really didn't know anything about it, but was trying to make it seem like she did know.
A.V. Club: I'd like to assume that Frobisher's reappearance, which wasn't rooted in any of the current plot lines, is going to pay off in some way in a later episode, but it's hard to ever figure out what theDamages team is planning from one minute to the next. (See: Julian Decker.) In fact, see almost anything in this bizarre episode, which is definitely my least favorite of the season so far.