Quick Take: Damages, "You Haven't Replaced Me"
"You're not a Tobin, Mr. Winstone. Keep acting like one and I'll punish you like one." – Patty to Leonard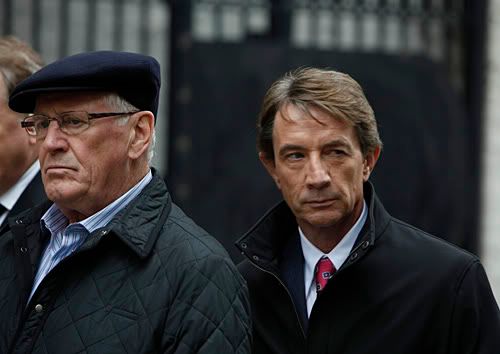 Review: Damages, "You Haven't Replaced Me"
(S0307) We're getting into the second half of the season and things are getting good. What I noticed most in the early part of this episode was the lack of the need to "lean" on the flash forward. No doubt that technique has been effective during Damage's run but it's nice to see the show click as well as it does (and at its best it competes with the best dramas on TV) in straightforward storytelling mode.
Overall, this was one of the best episodes of Damages' run yet. The intrigue was high and the performances were spectacular all round, led out by Glenn Close, Rose Byrne, and the you-can't-say-enough-good-things-about Martin Short.
Other thoughts on "You Haven't Replaced Me":
This is something that only New York area natives will get, but it's funny that the fictional airport that Danielle Marchetti (Madchen Amick) works out of is called Farmingdale, which doesn't exist. There's a town called Farmingdale (that houses a community college known as The Farm), but the Long Island airport is named Macarthur Airport and is located in Islip.
I like the subtle way that it's conveyed that Danielle has made more than one trip to a particular Caribbean bank branch when she tells the bank rep that her mother passed away, and a moment after the rep says of the paperwork: "you know where to sign."
Uncle Junior is back again, baby! Okay, he's not Uncle Jun' in this incarnation, he's Mr. Zedeck (Dominic Chianese). But still. Imagine if Mr. Zedeck became as well known one day as our dear old Uncle? Oh the heart soars!
Man, are Patty Hewes (Glenn Close) and Leonard Winstone (Martin Short) dynamite together on screen or what? I'm out of my mind shocked and delighted at how great Short is on Damages this season.
"You're not a Tobin, Mr. Winston. Keep acting like one and I'll punish you like one." – Patty to Leonard. Zing pow!
It's great too to see the gamesmanship between Ellen (Rose Byrne, who is terrific each week amidst a stellar cast) and Patty. These two have been at it and at each for three seasons now, so it was completely obvious that the "Friday" dinner party was a setup of some sort. Ellen knew it, Patty knew it, and it was glorious to see Patty's "game on" smile as Ellen left the gargantuan Manhattan loft.
Again, this might be a New York thing, but it seemed a little clunky to me that Ellen's new boyfriend, a reporter for the New York Observer, would automatically acquiesce to her (Ellen's) request to interview Patty's new associate, a "lawyer on the rise." I mean, would the Observer really be interested in a personal profile of a lawyer at a fancy corporate firm? And second, outside of a law school review newsletter, who the hell cares about that kind of piece anyway?
"It'll be fine, trust me" – Ellen, to Patty's new associate. No honey, I think quite frankly that it won't. Like Darth Vader said to Luke many times, "Obi Wan has taught you well."
Who the hell is Barbara Wiggins? Who the hell cares, just give us more screen time with Leonard Winstone. I'm freaking out at how good Martin Short is here. I mean, Short was a great comic performer in the '80s but since... Jimmy Glick? Please. Get this guy doing drama full time immediately!
The storyline involving the Tobins is fully realized and as dramatic as Damages has presented so far. Both Joe Tobin (Campbell Scott) and Marilyn Tobin (Lily Tomlin) are great together as a former billionaire mother-son team scrambling for the future. And love the way Marilyn hands her glass of booze off to Joe as he presents her with the stole that Mr. Zedeck is so insistent on getting to her.
"Look who's here. If it ain't Price Shit." – Mr. Wiggins. That's a hell of a greeting and a hell of a backgrounder on Leonard Winstone's past in one fell swoop! The brief scene between father and son Wiggins and Winstone unveils a huge array of possibilities of what may come next!
Tom Shayes (Tate Donovan) circa future forward… maybe not so dead? Tune in next week I will !
Recap: Damages, "You Haven't Replaced Me"
Patty sends Tom out of the country to follow the money trail of the Tobin fraud. Ellen must choose between her new boss and Patty. Leonard Winstone leaves the city under mysterious circumstances.
From Around the Web: Damages, "You Haven't Replaced Me"
A.V. Club: But this episode mostly belonged to Leonard Winstone, who got his very own "The Hobo Code" style origin story. I've gotta say, I'm a little trouble by the subtext in Winstone's story, which mirrors Ellen's and Patty's in the suggestion that working hard and being successful is what you to do to escape those miserable, disgusting, no-count poor people who reared you. But it was hard to quibble with Short's nuanced performance, with Winstone having to deal with the death of his mother and confront his beastly father, and show vulnerability when Patty reminds him that try as he might, he'll never be a Tobin.
(I must add in that any reference to Mad Men's "The Hobo Code" gets epic props in my book! )
Small Screen Scoop: Martin Short continued his magnificent portrayal of Leonard Winstone, and in this episode they actually delve into his mysterious personal life.