Quick Take: Dancing With the Stars 13, "Week 3 Results"
A night of emotional dances leads to a four-way tie.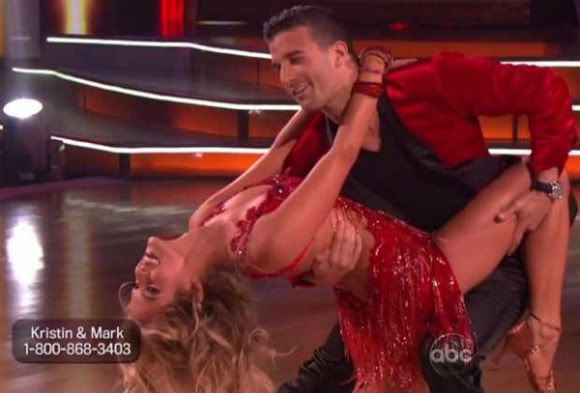 Review: Dancing With the Stars 13, "Week 3 Results"
(S1303, S1303A) The performances on Monday night were full of emotions as each of the contestants picked a song to reflect the most memorable year of their lives. And while JR Martinez and Karina Smirnoff's rumba to Tim McGraw's "If You're Reading This" didn't garner them the top scores of the night it did earn them the distinction of having the longest standing ovation in the history of DWTS.
The top scorers of the night were Ricki Lake and Derek Hough; their rumba earned them a twenty-seven. This is actually the second week in a row that they danced their way to the top of the leaderboard. Falling to the bottom of leaderboard for the second week in a row as well was Chaz Bono and Lacey Schwimmer whose rumba garnered a mere eighteen from the judges. As for who delivered the performance that was on the top of my leaderboard, well, that was Carson Kressley and Anna Trebunskaya. Their performance was entertaining and well-executed.
Tuesday night's result show opened with Mary J. Blige singing one of her first hits, "Real Love." You have to love old-school Mary. I was happy that she sang the song as is and didn't attempt to modernize it or anything. She also performed her new song, "25/8", later during the broadcast. Estelle opened the "Macy's Stars of Dance" which paid homage to the dance and song made famous by Chubby Checker, "The Twist." Even Len got on the dance floor and joined in during the high energy performance.
The elimination came down to Hope Solo and Maksim Chmerkovskiy and Kristin Cavallari and Mark Ballas. Both teams were part of a four-way tie for fourth place with a score of twenty-four so it was definitely a shocker that the decision came down to them. Ultimately Kristin Cavallari and Mark Ballas became the third couple eliminated from the competition. Kristin definitely didn't hide her shock when their names were announced. I sometimes wonder what the point of the judge's scores is since America's voting is what ultimately determines the fate of the couples.