Quick Take: Dancing With the Stars 13, "Week 6 Results"
It's Broadway week!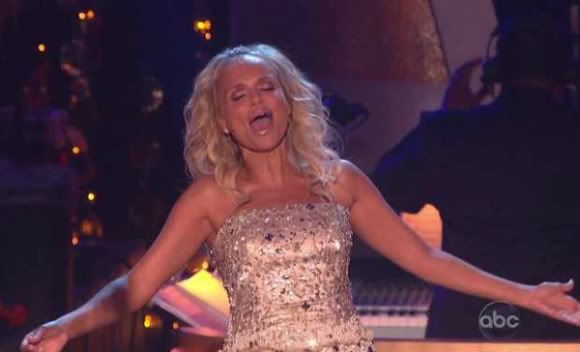 Review: Dancing With the Stars 13, "Week 6 Results"
(S1313) I don't think any season of Dancing With the Stars would be complete without professional dancer Maksim Chmerkovskiy having some sort of altercation with one of the judges. On Monday night's performance show, Len Goodman declared that Maks' partner Hope Solo delivered her worst performance of the competition with their rendition of the rumba to music from the musical, Rent. Maks didn't take too kindly to his words and he ultimately told Len that it was time for him to retire. No Maks, it might be time for you and Hope to go home and for you to hope for a better partner next season. Its six weeks into the competition and Hope continues to struggle with expressing her sexuality in her dance. Hope honestly looked like she could have cared less this week when she was dancing and it is a shame since Maks does seem to give it his all each week in rehearsal. DWTS needs to cut him a break and give him a partner that will definitely get him that mirror ball trophy.
Maks did bring up a good point though, there is an inconsistency in the way the judges score and critique some of the couples. In the battle of the quickstep JR and Karina reigned supreme over Ricki and Derek, yet, they both scored a twenty-nine (tying for first). I was much more impressed with JR and Karina's performance than that of Ricki and Derek's and while I may not be well-versed in what is right and wrong when it comes to professional dancing I think I can decide on which routine looked cleaner and more challenging to accomplish.
Elsewhere on the leaderboard... A surprising (and deserving) nine from Carrie Ann this week nabbed Nancy and Tristan second place with a cute and fun foxtrot to music from Monty Python's Spamalot. While Chaz and Lacey find themselves once again on the bottom of the leaderboard after their tango earned them a mere nineteen from the judges, one point below Hope and Maks.
Monday night also featured The Group Dance, where all of the couples danced together in a routine choreographed by Kevin Maher. I don't really know what the point of it was since it wasn't scored or anything. I doubt it would sway the audience from voting one way or another. Nancy does get kudos though for doing a difficult lift which involved a handstand.
Broadway week wrapped up on Tuesday night with performances from Kristin Chenoweth, Martina McBride and the Kenny Ortega choreographed Macy's Stars of Dance saluting a few of Broadway's notable musicals - 42nd Street, West Side Story and In the Heights - featuring Corbin Bleau singing and dancing. We also got a sneak peak of what's to come next week on Halloween when Lacey and Mark performed a Halloween inspired dance with costumed children.
So, after much drama on Monday night it was no surprise that the final two came down to Hope and Maks and Chaz and Lacey, and saying good-bye in this sixth week of competition is Chaz and Lacey. Hopefully Hope makes good on this second chance and brings her A game next week for her Halloween inspired dance.