Quick Take: Dancing With the Stars 13, "Week 8 Results"
The clock strikes midnight for another couple.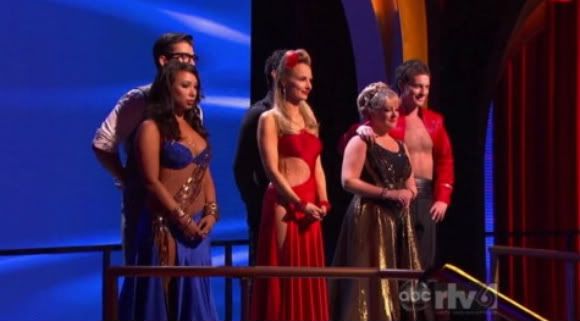 Review: Dancing With the Stars 13, "Week 8 Results"
(S1317) The five remaining couples on this season's Dancing With the Stars danced their feet off this week in hopes of earning a spot in the semi-finals. One couple had a perfect night while another had Len declaring that it was time for their carriage to turn into a pumpkin and go home. Too bad the viewers don't have the opportunity to vote on the judges because Maksim Chmerkovskiy may have been right -- it might just be time for Len to go home due to the insensitive comments he makes towards others.
Following Monday night's performances JR and Karina were sitting on top of the leader board with a perfect score of 60 for their waltz and instant jive. Tying for second with a 52 are, surprise surprise, Hope and Maks and Ricki and Derek, while Rob and Cheryl are right on their heels with a 51. Rounding out the five couples was Nancy and Tristan with a 44, who were the victims of Len's harsh words.
While I personally feel that JR and Karina should win over Ricki and Derek (her drama-fueled video montages each week are just too much) I am secretly hoping that Rob and Cheryl can somehow sneak through and win this whole thing. As Carrie Ann said on Monday night's performance show Rob is the ideal contestant for DWTS. He came into the competition with no dance experience and has continuously worked hard each week to improve. While it does seem like he is taking this competition seriously it's not to the point of Ricki Lake who took the time this week to speak with Jennifer Grey about the stresses of the competition. I think the competitors should be more focused on having fun and learning, yes, it's nice to win, but sometimes the journey is much more enjoyable than the end product. This week Hope let go some of her competitive nature and danced her best dance of the competition with the quick step.
Tuesday night's result show was jam-packed. Andrea Bocelli kicked off the evening's performances with a song from his upcoming CD from his concert in Central Park. On the other end of the music spectrum, Flo Rida performed his hit "Club Can't Handle Me" and his new song, "Good Feeling," from his upcoming album. I guess DWTS is the place to perform if you have an album coming out. In the Macy's Stars of Dance Cirque Du Soleil gave a sneak peak to their new production Michael Jackson The IMMORTAL World Tour which kicks off later this week. Being a fan of Cirque Du Soleil I definitely enjoyed this performance. It's really amazing (and freaky) what some of those performers can do with their bodies. And since we are nearing the end of season 13 of DWTS it was the return of "Dance Center" with Len, Jerry Rice and Kenny Mayne. As cheesy as the segment is it's just as entertaining. I would love to know how they can convince an NFL legend and a sports journalist to keep coming back every year to wear flashy shirts and face jewelry to do these vignettes. Either way, they are hilarious.
So, in the end Len got his wish and the clock has struck midnight for Nancy and Tristan as they are eliminated one week shy of the semi-finals. I was hoping that Nancy could somehow pull through and make it one more week. She really did seem to give it her all each week, even though her and Tristan did butt heads getting there. I must say that I will be happy once this season is over. It has been one of the most boring and fakest seasons yet. Performances that have been wonderful have been nitpicked while those that have appeared lackluster have received glowing praise.