It has been an interesting eleventh season for Dancing with the Stars with plenty of drama and shocking eliminations.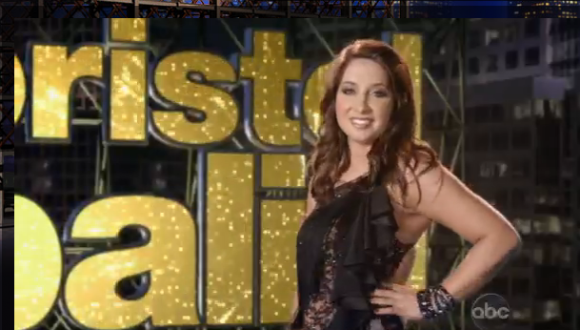 Out of all the celebrities that have competed this season, the one that has had everybody talking has been Bristol Palin. For weeks, the teen activist and daughter of Republican Sarah Palin has struggled with her dancing on the show. Week after week she has received low scores, but has survived being eliminated with celebrities like Audrina Patridge and Rick Fox, who got decent scores and improved every week, being eliminated instead.
After Tuesday night's results show, when Brandy Norwood was eliminated, the debate about why Bristol remained on the show grew even stronger. Brandy had scored a perfect 30 for her dance on Monday and had done very well all season. It definitely was a shock to see her not make it into the finals.
Fans of celebrities that were eliminated have cried conspiracy and are trying to blame it on mass Tea Party voting. If there is a conspiracy with Bristol, then how do you explain Kyle Massey being in the finals when he hasn't been that great of dancer either? What about the fact that Jennifer Grey has a dance background and pretty much should have been a lock for the finals before the contestants started dancing? The same thing could be said about last season's winner, Nicole Scherzinger, but there were no complaints about her. It seems that the only kind of reason people have it out for Bristol is a political one.
If the viewers want someone to blame they need to look in a mirror because it is America's vote that keeps her in. The votes for the contestants are half the judge's score and the other half of the votes are the viewers. Also, if the celebrity has a strong fan base then they have a decent chance of making it to the end.
I think the fact that she made it to the finals is due to a certain demographic of the audience who likes her. It also may have to do with the fact that her partner Mark Ballas is well liked among the audience too. Yes, Bristol has a famous mom who has been in the news a lot in the past couple of years, but Bristol seems like a very nice young woman and people are probably drawn to her personality.
I have wanted Bristol to be eliminated for the past couple of weeks too, but I have to admit that she has improved. I can't complain about her still being on the show because I don't vote when I watch. I have been disappointed many times about who was eliminated, but there is no control over it. I had Brandy, Audrina and Jennifer as my final three after the competition started and now competing for the trophy is Bristol, Jennifer, and Kyle. I guess this is what makes Dancing with the Stars entertaining and frustrating all at the same time.
No one expected for Bristol to get this far, especially when there have been times on camera that she seemed like she wanted to give up and she the fact that she hasn't had very good scores all season. Bristol did improve this week and she earned her highest scores this past Monday. Making it into the finals was an accomplishment for Bristol, but in the end can she pull off the win? Tune in Monday, November 22 to find out.
Check out the "Week 9 Results" episode review all of TV Geek Army's coverage of this season of Dancing With the Stars here.