Quick Take: Dancing With the Stars, "Finale"
The eleventh season of Dancing with the Stars is over and the winner, Jennifer Grey, has been crowned.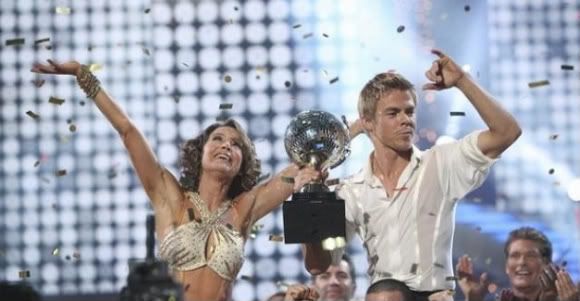 Review: Dancing With the Stars, "Finale"
(S1120) Jennifer Grey became the champion of Dancing with the Stars Season Eleven, with Kyle Massey finishing in second place and Bristol Palin in third. Anyone surprised? Some might be, such as the ones who thought that Bristol might sneak in to claim the trophy. I think that no matter what, Jennifer was destined to win.
The finalists had to perform two more dances for the judges. They performed an encore dance and each performed the cha cha. Kyle received a 26 for his tango and a 28 for the cha-cha, making his two-day total a 110. Jennifer came out with a 118 total, after a 30-point Viennese waltz and 28 for the cha-cha. Bristol ended up in the bottom again with a 25 for the tango and a 27 for the cha-cha, resulting in 104 points. The extra dances seemed kind of pointless because they already had two dances from the other night. Who knows if these extra scores helped anyway, but perhaps they confirmed the final outcome.
Before the results were announced, the show had to fill the two-hour time slot. Christina Aguilera stopped by to sing "Show Me How You Burlesque" from her new movie Burlesque, and "Beautiful." The celebrities from the season, minus Michael Bolton and Audrina Patridge, returned once more to the ballroom to perform one more time. The cheesiest was definitely David Hasselhoff singing the Baywatch theme and dancing with Kim in a swimsuit. The most entertaining was the Rick Fox vs. Kurt Warner dance. The funniest dance goes to Mike "The Situation" Sorrentino dancing to "I'm Too Sexy" with Karina. I guess it was inevitable that his abs were going to be appear on television yet again in 2010.
After all the dances and reliving the memorable moments and the shocking eliminations, Jennifer was finally announced as the winner. That's it for this season. Look for Dancing with the Stars to return in the spring of 2011 for Season Twelve.
Video: Dancing With the Stars, "Finale"
Check out the DWTS season finale in full from Hulu while available. Part I:
Part II: