Quick Take: Dancing With the Stars, "Week 3 Results"
"Wouldn't you say it's a triumphant return for Michael Bolton to the ballroom?" – Tom Bergeron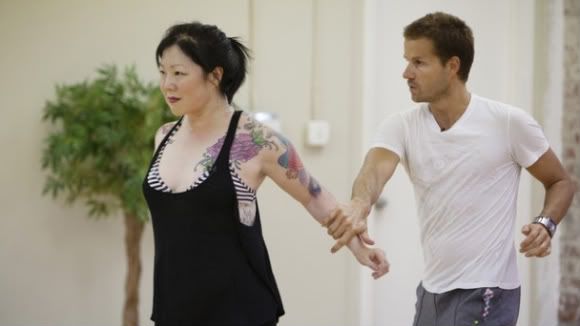 Review: Dancing With the Stars, "Week 3 Results"
(S0611) It was a predictable night in the ballroom as comedian Margaret Cho was sent home on the third results night of the season.
Bristol Palin joined her in the bottom two, but Cho had the lowest scores from the performance night. The evening had its usual filler in between announcements of who was safe and who was in jeopardy.
The judges picked The Situation's time travel foxtrot as their encore dance. Donny Osmond made an appearance to talk to the public in Las Vegas about what they think of the Season Three celebrities; one lady said she would never say no to Rick Fox, even though she had just gotten married. Singer Ne-Yo showed up to perform his new single "One in a Million" and Michael Bolton sang in place of Susan Boyle, who was supposed to guest star but was ill. It was interesting to see Bolton come back with all of the drama that surrounded his Week Two exit from the competition. His performance of "Hallelujah" was good and having married pros Jonathan and Anna to dance to it was even better.
Cho had no regrets being on the show and shed some tears while watching her exit video. Next week is another theme week with the dancers taking on an acoustic performance and the ballroom will undergo a transformation for the theme.
Video: Dancing With the Stars, "Week 3 Results"
Check out the results from this week's DWTS in full from Hulu, while available: