Quick Take: Dancing With the Stars, "Week 4"
"What just happened? You're Mrs. Brady!" – Carrie Ann to Florence Henderson after her raunchy rumba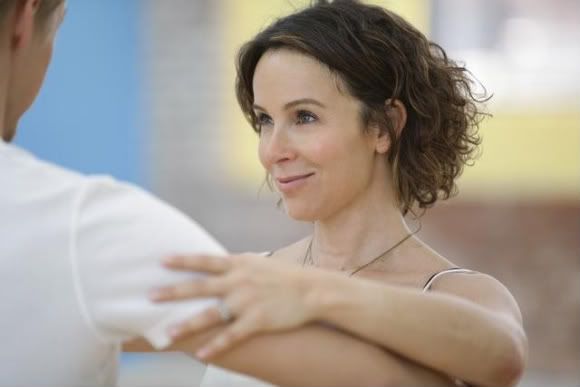 Review: Dancing With the Stars, "Week 4"
(S1107) It was acoustic week during the fourth performance night on Dancing with the Stars. Except for Jennifer Grey, who took back her top spot, it seemed as though everybody else took a step backwards. There was a change in the ballroom with the stage being raised above the ground for the contestants' dancing to be more scrutinized and the audience was placed around the stage. Another change for the week included the celebrities being scored on their technique and their performance for the night.
Scores for the night:
Jennifer Grey – argentine tango; technique 27, performance 29 = 56 out of 60. Grey was definitely the best dancer of the night. She had some hard choreography, but was able to keep up with her partner. She did have an advantage though with her music being a traditional tango tune. It seems it is easier for the contestants when they have a song that actually goes along with the type of dance they have.
Brandy Norwood – rumba; technique 22, performance 26 = 48 out of 60. Norwood took second place again this week with a good performance, but lacked a little in technique.
Audrina Patridge – argentine tango; technique 24, performance 22 = 46 out of 60. Patridge didn't do as well as she did last week, but she is still a contender. She was one of the few contestants where her technique was better than her performance. If she could master both then she could do really well.
Kyle Massey – rumba; technique 18, performance 22 = 40 out of 60. Massey pulled off a good performance, but his rumba didn't flow as well as a rumba should.
Rick Fox – argentine tango; technique 19, performance 20 = 39 out of 60. The judges weren't as happy this week with his performance and found the dance to be dull. The lifts were good, but the dance lacked in energy.
Florence Henderson – rumba; technique 17, performance 18 = 35 out of 60. Henderson is always fun to watch. She is a performer, but her technique is still not there. She is still better than Palin and Sorrentino though, so she will probably stay another couple of weeks.
Kurt Warner – rumba; technique 15, performance 19 = 34 out of 60. The only thing keeping Warner back from being a good dancer is his stiffness. His performance was good, but his technique was off.
Bristol Palin – rumba; technique 18, performance 14 = 32 out of 60. Palin looks like a deer in the headlights when she dances. Bruno thought her moves don't go anywhere and Carrie Ann thought she has no effort in her dance. She will most likely be in the bottom two for the results night.
Mike "The Situation" Sorrentino - technique 12, performance 16 = 28 out of 60. Looks like it is time for The Situation to head out of the ballroom with what judge Bruno thought was a "terrible mess." His dance was hard to watch, even though you knew he was probably trying his hardest.
Video: Dancing With the Stars, "Week 4"
Check out all the dancing action in full from Hulu, while available:
Part I:
Part II: