Quick Take: Dancing with the Stars, "Week 5"
"I hate the jive." - Bristol Palin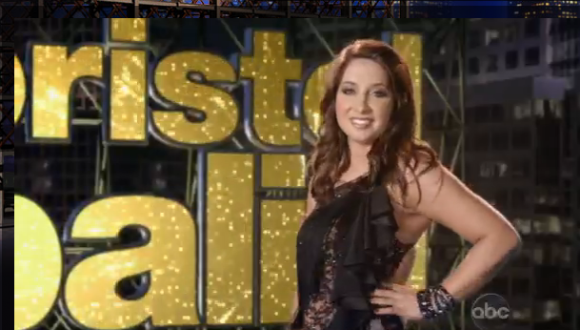 Review: Dancing with the Stars, "Week 5"
(S1105) It was another week of performances on Dancing with the Stars, with the night being all about dancing to TV themes. Before the dancing, the judges talked about each dancer and what they needed to do in order to make it to the finals. It was a very entertaining night and a new leader emerged.
Scores for the night:
Brandy Norwood – quickstep; 27 out of 30
Finally Brandy shows her potential. In her critique, Carrie Ann said that if Brandy was more confident in herself then she could go a long way. Brandy has the talent, but she needs the confidence. Her quickstep was full of energy and was the best dance that she has done so far.
Jennifer Grey – foxtrot; 25 out of 30
Carrie Ann thought Jennifer was out of sync this week and Len thought her foxtrot was too theatrical. The dance was mediocre but still got a good score.
Rick Fox – rumba; 24 out of 30
Last week the judges called Rick robotic and this week he loosened up more with the rumba. The slow pace of the Hill Street Blues theme worked for the dance and Rick.
Kurt Warner – quickstep; 24 out of 30
Kurt and his partner Anna danced to the Bewitched theme and I found their dance one of the more entertaining ones of the night. He did a lot better this week and his technique improved. Their rehearsal footage was amusing with Kurt trying to explain to Anna what Bewitched was about since Anna is Russian and doesn't know much about American television. She did improve on her nose wiggling just in time for the performance.
Audrina Patridge – rumba; 23 out of 30
Audrina had to dance to The Hills' song, "Unwritten," by Natasha Bedingfield, and I don't understand why the producers give the contestants fast songs to slow dances. The judges all thought that Audrina needed to show more emotion, but her technique is a lot better than it has been. Audrina could have done better this week and it was disappointing to see her take a step back.
Florence Henderson – tango; 21 out of 30
Of course, Florence danced to the Brady Bunch theme! Once again she proved how entertaining she is. Her tango wasn't terrible, but her technique isn't fabulous.
Kyle Massey – foxtrot; 20 out of 30
Kyle is definitely an entertainer, but still lacks in skill. His Charlie's Angels theme dance was fun to watch, but didn't really show that much improvement. Judge Len though the dance was terrible and Bruno thought it needed more foxtrot in it and less disco.
Bristol Palin – jive; 18 out of 30
No offense to Bristol, but she has to go this week. She has not improved at all and the competition is at the halfway point. The theme was from The Monkees and Bristol tried to show more personality by dressing as a monkey for the beginning of her jive, but she lost her technique while trying to entertain. She will most likely be on her way out on elimination night.
Review: Dancing with the Stars, "Week 5"
Check out the episode in full from Hulu, while available.
Part I:
Part II: