Quick Take: Dancing With the Stars, "Week 6"
"Last week a chimp, this week, nearly a champ." - Judge Len to Bristol Palin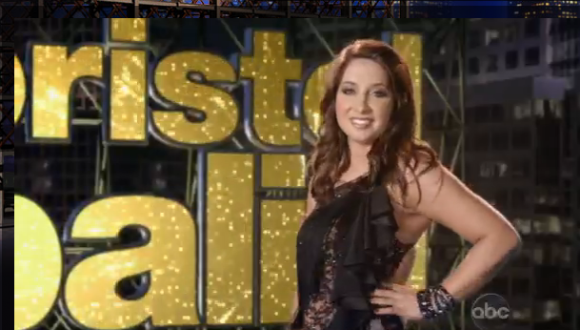 Review: Dancing With the Stars, "Week 6"
(S1111) It was very disappointing to see Florence Henderson go home last week and it goes to show you that anything can happen when it comes to voting. The seven remaining stars endured rock week for the sixth performance night and it proved to be either a success or a fail for some. The contestants had to perform the tango or the paso doble and then compete in a dance off. With the dance off, the judges eliminated the contestants one-by-one while they danced for four minutes. Brandy Norwood ended up taking the top spot for the second week in a row, while Kurt Warner ended up at the bottom.
Scores for the week:
Brandy Norwood – tango: 26 out of 30; dance off: 10 out of 10 = 36 out of 40
Brandy nabbed the top spot for both the performance and the dance off. I hope she continues this trend of scoring high and goes to the finals. Len called her dance the best of the night.
Audrina Patridge – paso doble: 24 out of 30, dance off: 8 out of 10 = 32 out of 40
Audrina had issues with getting the character down again this week. She tries so hard on this and it is what keeps her from taking the top spot. The judges all agree that Audrina has the potential to wow them, but she needs to bring out the character of the dance.
Rick Fox – tango: 24 out of 30, dance-off: 6 out of 10 = 30 out of 40
Rick ended up in the middle of the pack again this week with a decent tango. Carrie Ann thought that he looked too stern during the dance and this makes him lose personality.
Kyle Massey – tango: 23 out of 30, dance-off: 7 out of 10 = 30 out of 40
Len enjoyed it and thought that Kyle showed more balance between his performance quality and his footwork. Kyle was decent, but he still isn't quite there yet. He needs to work on technique if he wants to stick around.
Jennifer Grey – paso doble: 20 out of 30, dance-off: 9 out of 10 = 29 out of 40
Carrie Ann called Jennifer out of control this week due to her messy paso doble and Bruno thought she looked like she was going to have a nervous breakdown. The dance did seem a little out of control and she messed up at the end, but it didn't seem like it was bad enough for a score of 20.
Bristol Palin – tango: 23 out of 30, dance-off 5 out of 10 = 28 out of 40
Bristol actually became a dancer this week. She was much improved and for once was not at the bottom of the leader board. I thought she would be the one to go home last week, but she really stepped it up this week and it wouldn't be surprising to see her safe again.
Kurt Warner – paso doble: 18 out of 30, dance off: 4 out of 10 = 22 out of 40
It was a surprise to see Kurt at the bottom this week. I am curious to know what the judges look for in a dance because I thought Kurt did a good job, but all three judges did not. Len thought he looked awkward in his dance and felt awkward watching it. He did so well last week and it would be a bummer if he ends up being the one to go home.
Video: Dancing With the Stars, "Week 6"
Check out the dancing action in full from Hulu, while available:
Part I:
Part II: