Quick Start: Dancing With the Stars, "Week 7"
"You were like a phoenix rising from the ashes." - Bruno to Jennifer Grey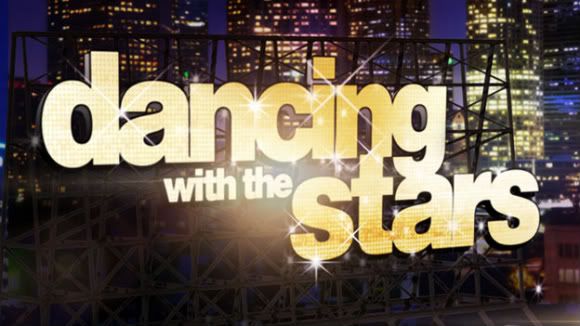 Review: Dancing With the Stars, "Week 7"
(S1113) Dancing With the Stars celebrated its 200th episode on Monday night with appearances from past celebrity contestants and most of the pros that have been on the show. The celebrities had to perform a dance each and then perform a team dance. Each team danced the cha-cha and had a captain to help them out. Past winners Kristi Yamaguchi and Apolo Anton Ohno were chosen to be the captains.
This week for the individual performances, each contestant had to replicate an iconic dance done by a past contestant and were judged by that past contestant along with the other judges. The guest judges were brought out before each dance and a clip of their dance was shown as a refresher before the season eleven contestants replicated the dances.
Brandy and Jennifer tied for first place this week. Unless some crazy elimination happens like last week when Audrina went home, it seems that they are the ones most likely to head to the finals.
Scores for the night:
Team dance
Team Kristi: Bristol & Mark, Kyle & Lacey, Rick & Cheryl, 24 out of 30
Team Apolo: Brandy & Maks, Jennifer & Derek, Kurt & Anna, 27 out of 30
Individual performances
Celebrities received four scores with the guest judge:
Brandy Norwood - guest judge Gilles Marini; foxtrot, 37 out of 40
Brandy had Gilles' seductive foxtrot from season 8 and she definitely pulled it off. Bruno said it sizzled with sex, but there was a small mistake. Gilles thought the performance was unreal. Len didn't bother with the mistake and called it the most fantastic foxtrot. Brandy, I think, had the best dance of the night. She is one of the best dancers and I would like to see her go all the way. Individual + team = 64 out of 70.
Jennifer Grey - guest judge Drew Lachey; tango, 37 out of 40
Jennifer bounced back from last week's score of a 20 to tie for first place with Drew's tango from season 2. Drew thought she has a chance of winning and Bruno also told her that she could go all the way. Jennifer definitely was a lot better this week. Individual + team = 64 out of 70.
Rick Fox - guest judge Helio Castroneves; quickstep, 37 out of 40
Helio and Julianne's quickstep from season 5 is one of my favorite dances ever from the show so I was curious to see if Rick could pull it off. He didn't have the charisma that Helio had, but he still did really well. Carrie Ann thought it was his best dance and Len liked his energy. Rick received his first nines of the season. Individual + team = 61 out of 70.
Kyle Massey - guest judge Mel B.; paso doble, 35 out of 40
Kyle took on Mel B's popular paso doble that she performed in Season Five. This would be a hard dance to replicate because Mel and Maks did a fantastic job, but Kyle pulled it off. Len called it his best dance and it was. Carrie Ann thought he displayed the same strength that Mel did during her dance. Kyle definitely has the performance down and his technique was better. Individual + team = 59 out of 70.
Kurt Warner - guest judge Emmitt Smith; tango, 34 out of 40
Kurt did a lot better this week and I hope that he sticks around longer. Bruno thought he was more confident this week and Emmitt thought he looked good doing the dance. Carrie Ann appreciated Kurt bringing out the character of the dance. Individual + team = 61 out of 70.
Bristol Palin - guest judge Kelly Osbourne; Viennese waltz, 33 out of 40
Bristol took on one of Kelly's best dances that she performed during Season Nine. Bristol did pretty good, but looked nervous throughout her dance. Carrie Ann thought at times she looked so confident and then lost her composure. It will be interesting to see if Bristol can last another week and be the dark horse of the season. Individual + team = 57 out of 70.
Video: Dancing With the Stars, "Week 7"
Check out the episode in full from Hulu, while available. Part I:
Part II: