In its seventh season of debauchery, It's Always Sunny in Philadelphia remains a comedy stalwart for FX. The show follows the hilariously gross lives of five Philly losers -- Mac, Dennis, Sweet Dee, Charlie and Frank -- as they come up with rancid schemes in their home base dive bar, Paddy's Pub.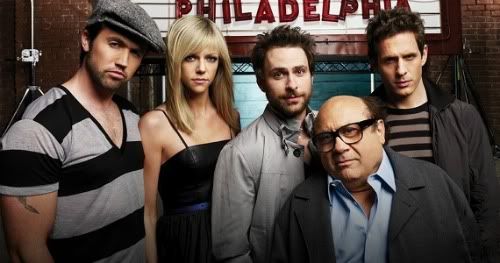 Since Season Two, Danny DeVito has embodied Frank Reynolds, the father of dysfunctional twins Dennis and Sweet Dee, with gleeful abandon. A formerly successful businessman, Frank ran angles until he was financially ruined. Having learned nothing, Frank's still running scams from the bar and working any con he can to get rich quick with no effort at all. For those that remember his gremlin turn as Louie DePalma on Taxi, DeVito's Frank is like Louie's more evil brother directly from the bowels of hell.
In a conference call this week with reporters, DeVito talks about how liberating Sunny has been to work on and what's to come. Here are some choice comments:
Danny on how the show remains offensive yet funny for audiences:
"I think that every once in a while there is a barb that gets close to the line. I think we try to stay as close to the nerve as possible, but I got a feeling it's where it's coming from, might be one of the things. It might be that the way these characters, with the way "Dennis" and "Dee" and "Mac," "Charlie," and "Frank" operate in their daily lives. I think that takes a little bit of the onus off it, so you can get objective, you get behind it."
On why Frank and Louie are relatable characters:
"Frank has a tenderness inside. Frank has set up for himself, [that] he wants to live in squalor and filth and he wants to experience everything that he never got a chance to do, that he always criticized possibly in the past. He just never did it before. He was a business man, his nose to the grindstone. He needed that liberation. He needed that freedom and it is cathartic. It's cathartic for Frank.
Louie got off on making their lives miserable from the cage, but he did actually care about the characters. I think he felt Tony Danza was this poor palooka who could never take a punch or throw one. He didn't have high hopes for those characters. He knew Judd was always going to be a cab driver, never get out of there. Louie was, on the one hand, having a good time making their lives a little interesting."
On the freedom playing Frank brings him:
"Since I've taken this leap into this wonderful arena with Glenn and Charlie and Rob and Kaitlin, I always live pretty much free and always have a lot of fun, but this is really relaxing. And no matter how much work there is and how much you're doing in a short amount of time — we only shoot for a certain amount of time, we have 13 episodes concentrated — it's wonderful getting up out of bed in the morning, going down there, and having a ball."
On a favorite episode this season:
"This week we have a special show where I meet my brother. I see my brother for the first time in many, many years and we had a very sordid past. This is kind of fun. This is like a show that does flashbacks and you get a little bit more insight into what "Frank" went through as a young man. I'm looking forward to this."
On the rum ham recipe:
"A lot of people ask me for the recipe. I got to get the prop guy to tell me what the recipe was because it had rum in it and it was sweet, not too sweet, but it tasted so good. It was so well done. It had pineapples, you know?"
New episodes of It's Always Sunny in Philadephia air Thursday nights at 10pm (EST/PST) on FX.