The so called "glory days" of The Simpsons is a subjective matter, but generally speaking, Season Nine would be considered part of it. At the very least, Seasons Seven and Eight, executive produced by Bill Oakley and Josh Weinstein, are almost always considered to be great, and a couple of their episodes ran into Season Nine. You would think those episodes would be loved by most fans, or at least liked. However, there is one episode that is, to say the least, a bit divisive. Well, that's a bit mild. It is probably the most controversial and divisive episode in the show's history. That episode? "The Principal and the Pauper."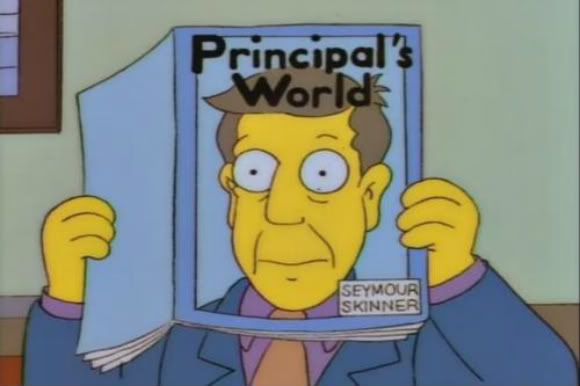 I'm a huge fan of The Simpsons. It is my favorite thing of all time. Not just my favorite show, but my favorite piece of entertainment and, call it hyperbole if you must, but I'd put it ahead of such things as cars, refrigerators, and the polio vaccine. However, there are a lot of people that feel similarly, and they still don't like and even downright hate "The Principal and the Pauper." I am not one of those people. Yes fellow Simpsons diehards, I am not here to bury this episode, but to praise it. Or, at the very least, to defend its existence.
In case you are not familiar with the episode, the basic plot summary is as follows. While the folks of Springfield are celebrating Principal Skinner's 20th anniversary as the principal of Springfield Elementary School, suddenly the real Sergeant Seymour Skinner shows up, voiced by Martin Sheen no less! It turns out, that the Skinner we know and love was once a no good street tough named Armin Tamzarian. Armin was sentenced to join the army during the Vietnam War, where he fell under the tutelage of Sergeant Skinner. However, when Skinner goes missing and is presumed dead, Armin assumes his identity and eventually accomplishes Skinner's goal of becoming the principal of the local elementary school.
The people of the town are shocked and appalled. Armin is no longer Seymour, he loses his job, and he decides to leave town and pick up his old life. The real Skinner takes the fake Skinner's job as principal, and moves in with Agnes Skinner. However, the people of the town do not care for the real Skinner. Edna Krabappel, Agnes, and other all miss the man they knew as Skinner. They track down Armin, and ask him to come back. Eventually, Agnes convinces him to come back, and everybody is happy, except the real Skinner. However, the townsfolk tie him to a chair on a train, ride him out on a rail, and declare Armin the once and future Seymour Skinner, with this whole mess never to be mentioned again.
The issue isn't that people don't find this episode funny. Some people may find that is the case, and given the subjective nature of comedy that is a reasonable argument. This isn't me saying, "This is funny!" and others saying, "No it isn't." It also isn't that people don't like the story. That, again, would be reasonable. The issue is that many seem to consider it a betrayal of the fans and a genuine insult. This is where I feel obliged to defend it.
Based on the audio commentary for the episode, which featured Oakley, Weinstein, and episode writer Ken Keeler, it was supposed to be to a degree jarring, and the fan's reaction was to be similar to the people in the town to a degree. The viewer feels like the know Skinner. Now, suddenly it turns out he is somebody completely different, and we didn't know him at all. I found this an interesting thing to do with an episode, and it was in line with the sort of bold originality of the Oakley and Weinstein era.
I do not think it was the intention of these fine young gentlemen to alienate their fans. In fact, they went out of their way at the end of the episode to assure everybody that everything would be the same going forward. We'd never hear about this whole sordid tale again, except for one side joke delivered by Lisa. How often have things changed on The Simpsons? How often has Homer gotten a new job? How often has there been a new romantic interest for a character? By episode's end, things are back to where they were before. Nobody complains about that being alienating or stretches the boundaries of what the show can get away with in terms of fan relations.
Besides, Skinner didn't change. He was still Skinner. We just got a new back story to him. My only concern with this episode at all is trying to figure out logistically whether or not the story jives with past episodes. We've seen flashbacks of Skinner before and since of Skinner as a sergeant in the army. It's plausible, I feel, that Skinner could have re-entered the army, somehow with a new identity, and continued his service. The army helped him grow from an angry young man into the adult he is today. That makes sense, to a degree. It certainly makes more sense that, say, Leonard Nimoy dissolving into thin air, and people still love "Marge vs. the Monorail."
Additionally, character's back stories have been changed before and often fleetingly for the sake of a joke. Sometimes these facts are directly contradictory. Compared to giving the Skinner story an entire episode of a well thought out plot that seems much more egregious. Sure, back in season nine these kinds of contradictions were less common, as having to generate plot after plot for another decade plus has led to a lot of these aforementioned issues, so maybe that is part of the reason for all the complaints. Still, I don't find it justified.
I like "The Principal and the Pauper." You don't have to. Plus, maybe I am giving Oakley, Weinstein, and Keeler too much credit in my defense of the episode. Maybe there are issues with continuity in Skinner's back story. However, as I see it, it is a perfectly reasonable episode plot and a bold, interesting move for the show. Plus, it has Homer eating a fresh batch of America Balls. "The Principal and the Pauper" has been maligned by many Simpsons fans for years. I just don't feel it deserves its divisive, controversial history. Now, if you want to complain about "Double Double, Boy in Trouble," I'm right there with you.