Entertainment Weekly has reported that one of the one of the major characters on Desperate Housewives will be killed off in March. The long-running ABC series is going off the air in May after eight years of melodrama, which included: the initial suicide, a fake pregnancy, a character who was electrocuted post-car crash, a dead body in a freezer, a lascivious nun, a full-sized sex doll, a controversial windmill, one very unfortunate mustache, at least two poisonings, several shootings, a few garrotings, a tornado that came down the street, an airplane that crashed into the street, and a tattle-tail mother-in-law who fell down the stairs. (That last one actually doesn't come close to my favorite soap opera scene, in which a woman died by falling up the stairs.)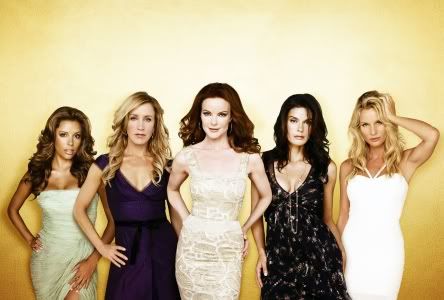 It's clear that Marc Cherry, the series creator, isn't afraid to go big when he wants to off one of his characters. So the question is not only who do you think is going to die – but how?
My vote is for foodie Bree to die in a tragic fry-o-later accident. Or he could go for the crowd pleaser and have Susan's shoe lace get caught in a wood chipper.
The next episode of Desperate Housewives ("Is This What You Call Love?"), premieres February 12th at 9:00 on ABC.