Quick Take: Dexter, "Hello, Bandit"
"I don't want to live with you." - Astor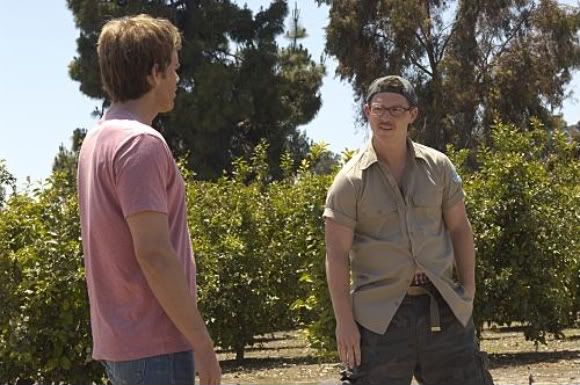 Review: Dexter, "Hello, Bandit"
(S0502) Mine has been an HBO home for quite a while, so I never saw Dexter when the program aired. Over the years, I have been hearing/reading fans talk about it being one of the best dramas on television alongside programs like Battlestar Galactica, Lost, Mad Men, Breaking Bad, and The Wire. I'll be curious if that kind of talk continues from those same folks because this was a very bad episode and it concerns me with what the new creative team has in store.
Dexter and the kids move in with his sister Deb temporarily. He decides they need to move out of their former home because of what happened to their mother there. Astor doesn't understand why and continues to lash out at Dexter, which upsets Cody.
While renting a moving truck for the job, Dexter notices one with a bloodstain and takes that one. Endearingly, Dexter takes Harrison along in his carrier to investigate what happened in the truck and the bond of responsibility is growing within Dexter. Harry appears to question what Dexter's doing, but Dexter proceeds to investigate a potential new target.
With her apartment very cramped, Deb takes Quinn up on his request to stay over, which she does but keeps to the couch. He wants to discuss their recent hook-up but rather childishly she denies it ever happened. Later, she comes around and admits to it.
The Miami police department has to deal with a severed and mutilated head found in a local park. New character Officer Cira (April Lee Hernandez) is from the neighbor and says its related to Santa Muerte, but Deb blows her off because a lot of drug dealers in the neighborhood. It's an odd reaction considering she knows how hard females have it coming up in the force. Another body is later found in a home with a gunshot wound to the head. It's connected to the body but there are no ceremonial Santa Muerte markings like the park.
Continuing their investigation of Arthur Mitchell, the FBI is looking for Kyle Butler, the alias Dexter used to get close to Arthur. The name is familiar to the police because it's the name of someone recently deceased. Three eyewitness all offer different descriptions of Kyle, but in forcing the story along by the writers, Quinn figures out that by taking portions of the drawings he is able to create a face like Dexter. This means Quinn is taking on Sgt. James Doakes' role, so he's likely a marked man. While it has the potential to be repetitious, Quinn's relationship with Deb offers interesting possibilities.
Eventually, Astor states she wants to live with her grandparents, which is believable, but when she gets her wish by the episode's conclusion, it comes off like such an easy cop out for the writing staff. Having the kids around would have made for great conflict for Dexter, although their departure may have been because the kids are limited as actors. There are a few scenes where they are required to exhibit strong emotion, but they don't have the chops to pull it off.
Due to the plotlines being forced in a direction by the writers as opposed to letting the stories grow organically, I am questioning my commitment to this season. The next episode better wow me because the creative team's heavy-handedness is turning me off.
Video: Dexter, "Hello, Bandit"
Check out a preview of the episode, from Showtime: