[Dexter's fifth season premieres Sunday, September 26th at 9PM on Showtime. Note that some mild spoilers lie below.]
Quick Take: Dexter, "My Bad"
"She trusted me, and now she's dead." - Dexter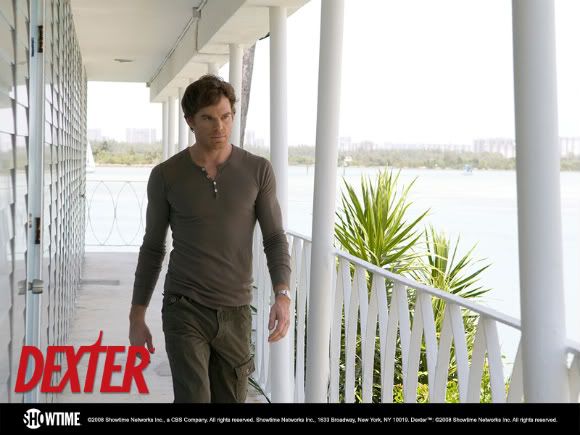 Review: Dexter, "My Bad"
(S0501) "My Bad" starts up right after the events of last season with Dexter Morgan (Michael C. Hall) coming home and finding his baby son Harrison sitting in a pool of his wife Rita's blood due to her murder at the hands of Trinity. Although Dexter has usually been detached from his emotions, the death of Rita puts him in a state of shock. He feels guilty, even responsible, causing him to repeat, "It was me," at inopportune moments. Dexter feels especially lost because his dead father Harry (James Remar), who he manifests in his imagination, doesn't help guide him, and Dexter's inability to process and show emotion draws suspicion from law enforcement and family members.
Although Dexter's colleagues arrive on scene to help, Lt. LaGuerta (Lauren Velez) turns the case over to the FBI as they've been working the Trinity case. Agents want to interview Dexter but his sister Deb (Jennifer Carpenter) and the Lt. say it can wait until morning. He and Harrison spend the night at Deb's.
His stepchildren Astor and Cody awake him with a phone call from Disney World where they are visiting with their grandparents. He decides to tell them about their mother in person when they come home the next day to allow them one more day of happiness. Naturally, the news doesn't go over well, especially with the detached way Dexter presents. Astor says some very nasty, hurtful things to Dexter who she blames, reinforcing his guilt.
Dexter and Deb go to a funeral parlor to make arrangements. He's distracted as he plans to leave town, so Deb has to deal with a lot of it. I was surprised there was no reference to Fisher & Sons/Diaz for the audience. What fans will enjoy is seeing Dexter and Rita's first date. It's a tad awkward because Dexter is distracted due to his pursuit of someone in the café.
Quinn (Desmond Harrington) shows up to help Deb clean the blood in Dexter and Rita's home. Things get heated between them, which Deb initiates, but then she acts odd afterwards. Before he leaves, Quinn interviews Elliot, a neighbor who seemed very upset over Rita's death, and learns of a confrontation he had with Dexter because of their relationship. Considering the high incidence of husbands killing their wives, Quinn wonders if Trinity should be the main suspect.
Dexter skips his FBI interview because he's with Rita's body at the funeral parlor. He then works to cover his tracks in preparation to disappear. As his journey begins, Dexter has a run-in that causes him to break The Code he tries to work under, but rationalizes it as "working through the anger stage" of grief.
In the end, Dexter shows a good deal of emotional growth that may signal a change for him as he moves ahead with his life. In addition, the show has a new creative team led by executive producers Manny Coto and Chip Johannessen who just wrapped up 24. They have their work cut out for them after how high last season set the bar.
Video: Dexter, "My Bad"
Get in the mood for Dexter's fifth season by checking out this clip, called "Never Make a Scene":