Quick Take: Doctor Who, "A Christmas Carol"
Doctor Who's 2010 Christmas special is an uneven piece filled with brilliant ideas that just doesn't quite make the grade on the emotion.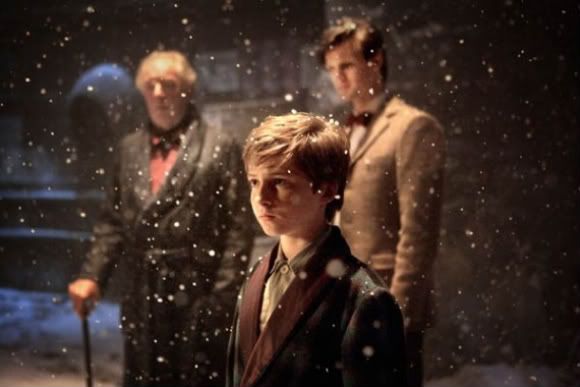 Review: Doctor Who, "A Christmas Carol"
To say I was looking forward to the first Stephen Moffat Christmas special would have been an understatement of epic proportions. The previous Christmas specials have all been exceptionally varied in their quality, some have been a lot of fun if not exactly deep (like Tenant's first outing -- "The Christmas Invasion" and "The Run Away Bride") while some have been just awful ("Voyage of the Damned," which wasn't even saved by having Clive Rowe in it).
But, the change of the writer at the helm from Russell T. Davies to Stephen Moffat had proven to be a great thing, as over the latest season both Moffat and Matt Smith (as the Eleventh Doctor) won me over with some incredible stories, ranging from hugely emotional pieces all the way to fun, nonsensical romps that were so entertaining you could overlook the weaker moments.
There were some things to love about "A Christmas Carol" as it was a story filled with inventive moments and clever spoofs. I enjoyed the crisp white semi-Star Trek bridge in the opening moments, and the humour of Amy and Rory stumbling in from the honeymoon suite dressed as a "kiss-a-gram" police woman and a Roman soldier respectively was both a nice nod to the previous season's events and a fun knowing moment for those of us old enough to "get" what the pair had been planning to get up to. It's a shame Doctor Who is a family show, considering Moffat's humour, as we could have ended up with their costumes reversed!
The setting for the vast majority of the episode was not on the ship, but in a semi-futuristic, semi-steampunk city that echoed the times of Dickens's A Christmas Carol in Prose (more commonly known as A Christmas Carol) while also giving everything a science fiction tint. In particular the concept of fish "swimming" through the air resulted in some memorable scenes -- especially the ones involving the shark.
The sonic screwdriver was used in a new but believable fashion, there was plenty of fun with time (even if it will cause some people's heads to explode), and Matt Smith was charming and entertaining throughout the story.
But.
But while the concept was great, having a story riff off Dickens' classic tale is a tried and true Christmas concept, and the entire thing just felt a little flat. It was exciting at times, but Amy and Rory just never felt like they were in danger. Likewise the character of Kazran Sardic fell very flat as well -- despite being the central point to the story it was hard to either like him or care about what happens to him.
The most exciting moment came when the Doctor ended up face-to-tooth with the shark and if the special had had more moments like that it would have become something really great. Instead it moved off in a more emotion-driven direction, which could have paid off very well -- the love affair between Kazran and Abigal (Katherine Jenkins) spanning decades of Christmas Eves being a sweet concept.
The thing is, Rusty (Russell T. Davies) might not have been the best science fiction writer for Doctor Who, but he knew how to sell emotional stories and scenes with great expertise. It's surprising that Moffat can't get the notes right here, because his past work with Coupling (and Doctor Who) has shown a deft ability to pen stories that are fun, believable, well plotted and always hitting the right notes for the characters (the end of Coupling is a superb example of this skill).
It's possible that here he's been hamstrung by the decision to loosely follow A Christmas Carol. The predictability of the plot and the corniness of the ending seem to undermine Moffat's strengths and I can't help but feel he may have been better off going for a more subversive take on the concept instead of sticking to something that is very traditional in its style.
In the end, this year's Christmas special is just not a great piece of work. It has good ideas and fun moments, but the overall execution is lacking. It should have been an exciting tale of magic, love, and daring, but instead it ended up being rather ordinary and even boring at times. It was not anywhere near as bad as either "Voyage of the Damned" or "Love and Monsters," but it won't end up being an all time classic Doctor Who story.