BBC airings of Doctor Who run a bit ahead of premieres on BBC America. So if you're on the North American side of the lake, fair warning that spoilers lie below! – Eric TVGA
Quick Take: Doctor Who, "The Lodger"
Just what the Doctor ordered: lighter fare and the good Doc passing himself off as an everyday bloke.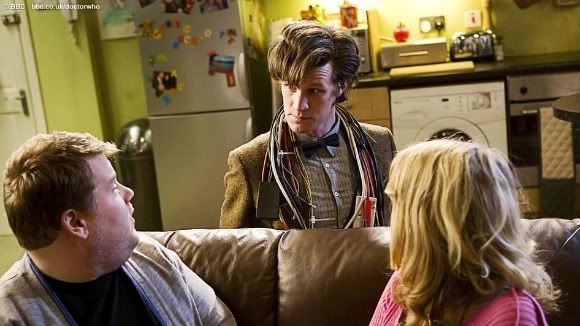 Review: Doctor Who, "The Lodger"
(S0511) The previous episode, "Vincent and The Doctor", was a staggeringly breathtaking portrait of one of the greatest artists humanity has produced and a potent portrayal of a crippling and often misunderstood illness, that being Vincent Van Gogh and his battle with major depression.
It was a heavyweight episode that dealt with a serious topic in a sensitive and beautiful manner, but it was also an emotionally draining piece that had quite a downbeat ending. So I was hoping that the following episode would be a lighter fare with a less serious subject matter at its heart.
"The Lodger" is exactly that and a little more.
Exploring a simple concept – what if the Doctor had to pose as a normal human? – "The Lodger" marries a light hearted love story with a simple monster of the week that plays into the concept of modern neighbours and the disconnect felt between people who live physically very close to one another but in every other aspect are light years apart.
Craig (James Corden from Gavin & Stacey) lives a humdrum average life, working in a call centre where he met his best friend Sophie (Daisy Haggard from Green Wing). He has two major problems in his life: he needs a new lodger and he's in love with Sophie. He also happens to live below a flat owned by a mysterious individual within which people keep disappearing, but as he's ignorant of that particular issue it's not really a problem as such.
Enter the Doctor. Intent on solving the third of these issues, he also provides Craig with a new if exceptionally eccentric lodger. The Doctor has been stranded after the TARDIS failed to materialise and he's here to deal with the source of the problem, Craig's upstairs neighbour.
What follows is a slightly predictable but exceptionally fun episode that gives us a chance to really connect with the eleventh Doctor's incarnation in a way that we haven't had a chance to since the first episode (fish finger custard!). The Doctor attempts to portray an ordinary person with assistance from Amy, who's currently stuck on the TARDIS in a materialisation loop.
The greatest part of the episode is the insight into the personality of the Doctor's latest incarnation, and he shows a great deal of understanding and insight into many big things but also fundamentally fails to understand the customs and traditions of the people he attempts to integrate himself with. As such he alternates between delighting and bemusing people, kissing to either side of people's heads when he first meets them, asking to be called 'The Rotmeister' (then immediately realising how ridiculous that sounds), cooking crazy omelettes and playing football for the first time.
In any story there are four key elements – location, plot, dialog and characters. Location tends to be the binding that holds everything together – it's important but it's rare that the story can revolve around the location –so it's often down to the remaining three parts to provide the meat of the story. I say this because "The Lodger" is a story that's very weak on plot. The upstairs neighbour, the disappearing people, what's happening to Amy – it's all very coincidental and little more than an excuse for The Doctor to be in the right place at the right time. Likewise, Craig and Sophie's story is very predictable, a case of fictional unrequited love with a happy ending. And likewise the location is very pedestrian, humdrum, urban and mundane, but that's exactly the point as it gives us a contrast against which the Doctor's eccentricities can shine.
The parts where the episode shines out is the characterisation and the dialog. James Corden is well cast as Craig, and he's able to turn out a great performance as an everyman. While he doesn't surprise here (he provides a more toned down version of Smitty from Gavin and Stacey in truth) he is spot on what he needs to be, a straight man for the Doctor's nuttiness to play off against. Daisy Haggard is likewise cast to her strengths, giving us a pretty and adorable but ultimately believable woman for Craig to yearn after.
In the end there were no surprises. Craig and Sophie got together, the 'upstairs monster' turned out to be only important because it got Craig to admit his feelings for Sophie (in order to save the world), Amy and the TARDIS reunite with the Doctor and he heads on in his endless travels. Predictable stuff, but it just doesn't matter because the energy and brilliance of the performances across the board carry this episode along and make it an exceptionally enjoyable experience.
All that's left in this first series is the two-part finale, which with any luck will be every bit as good as the writing so far has promised it will be.
Other Observations on "The Lodger":
Was anyone else a little shocked at the Doctor's suggestion that six billion odd people is the number to beat? I know he was encouraging the pair to get together and make a family but still, this planet already has a rampant overpopulation issue. Am I just being a curmudgeon for feeling he shouldn't be so unconcerned about it?
Daisy Haggard is so lovely; she needs to be on our screens more. More I tell you, more!
Psychic head-butting to transfer memories? If it wasn't so wonderfully fun and ridiculous it would almost be absurd to the point of annoyance. As it is, it proved to be a fast and funny way to bring Craig up to speed on the truth, and the Doctor's comment of "I'm not doing that again" was equally amusing.
It's a shame "The Lodger" wasn't located earlier in the season; it was a nice 'getting to know you' piece for the Doctor indeed.
Recap: Doctor Who, "The Lodger"
There's a house on Aickman road with a staircase that people go up, but never down... To solve the mystery of the man upstairs, the Doctor must pass himself off as a normal human being, and share a flat with Craig Owens.