I saw a commercial for Drew Carey's Improv-a-Ganza on Game Show Network while flipping around channels one oh-so-exciting Tuesday night. I was a big fan of Whose Line is it Anyway? when I was younger so I thought I'd give the show a chance.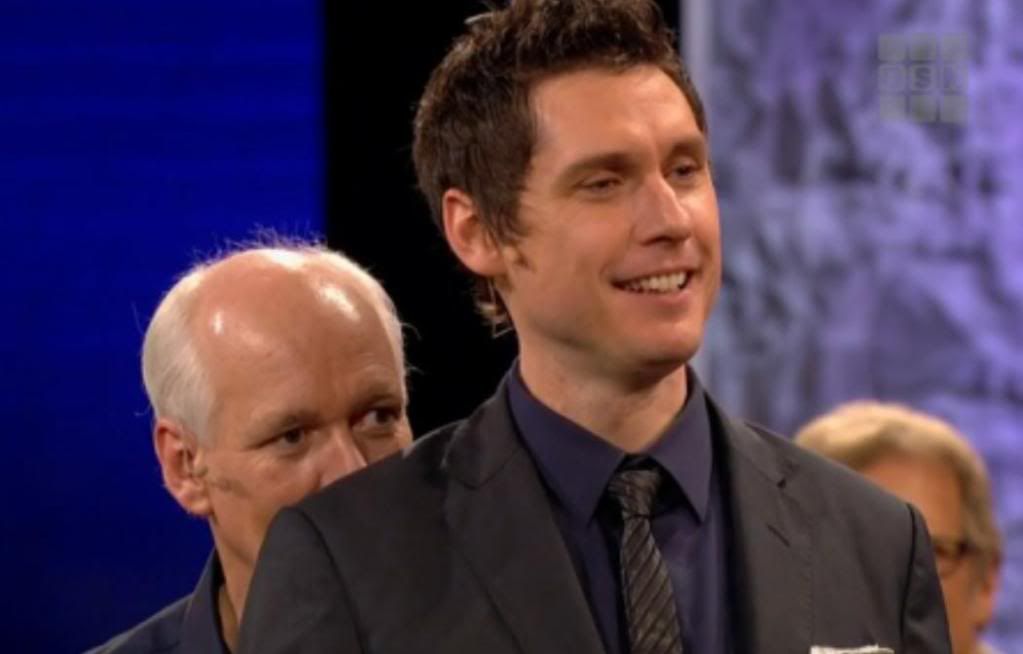 Drew Carey's Improv-a-Ganza is not a "Whose Line" 2.0, as I had initially thought it would be.
The show is filmed at The MGM Casino in Las Vegas in front of a live (and sometimes intoxicated) audience. Many of the original improvers from Whose Line (Ryan Stiles, Colin Mochrie, Chip Esten, Greg Proops, Brad Sherwood) star in the show as well as a couple of new additions (Heather Anne Campbell, Jeff Davis, Kathy Kenny, Jonathan Mangum) to the improv family. Wayne Brady makes an occasional appearance and is billed as a special guest. And what improv show would be complete without a little music? Bob Derkach takes the place of Laura Hall as master of on the spot piano playing.
While watching the show I didn't expect to laugh as much as I did. I, of little initial comedic faith in this show, found myself rewinding bits of the show over and over again. Although ten years older and perhaps wiser, Colin and Ryan haven't lost their comedic luster. Spouting off gems such as, "I've hired a dog and cat that chew each other. I call it the Pussy-Woof-Woof!" (Colin describing how to raise money in a game of "New Choice") or "Helen say to me, 'Purple monkey on the tree!' That's sex talk with Helen!" (Ryan in a game of "Sentences" describing his Ice Age girlfriend).
But one cast member sticks out the most: Jeff Davis. You may have seen him in a few episodes of Whose Line when he had floppy hair and a spot-on Christopher Walken impression. His comedic timing and quick wit on Improv-a-Ganza shows how much he has improved as a performer and comedian. And I'm not just saying that because he's completely adorable. Well... it doesn't hurt that he's cute AND funny. For instance, on a game of "Question This" the answer suggested by the audience was "lederhosen." Jeff, posing as an evil ski instructor named Klaus, followed up with the answer, "How you say good-bye to your hosen?" in under three seconds. I was still trying to picture lederhosen from my seat on the couch. Go Klaus! Jeff has also gifted us with hit songs such as "Flap My Jack" and "Dust Storm" with help from fellow cast mate Chip Esten.
This is not the Whose Line we grew up with. Improv-a-Ganza is like moving up from BJ's Bahama Mama wine coolers to a glass of pinot noir. It feels more refined and grown up somehow. Maybe it feels that way because Ryan has stopped wearing his awesomely loud shoes or that Colin stopped wearing Hawaiian shirts in lieu of darker hues, but that's a minor detail. Each cast member gets a chance to introduce a game and the skits run as long as the temporary "host" wants. Plus, they can even swear! It's crazy but I have heard the bleeps myself. During the games you can tell the cast has a natural chemistry together, even with the new cast in the mix. Audience members are still asked to participate in a few games. (This is slightly more entertaining when they get an inebriated audience member to do sound effects.)
For those of you who love the Hoedown and Party Quirks, I am sad to say that these games did not make the cut to Improv-a-Ganza. There are a few games you may remember such as "Greatest Hits" and "Sound Effects" which are still in rotation. However, the new games they play are equally, if not more, hilarious. "Forward/Reverse," "Two Headed Expert," and "Freeze Tag" are some games that have made the list as regulars.
Drew Carey's Improv-a-Ganza airs on the Game Show Network at 8/7 pm. For those of you who don't get GSN, don't fret! You can watch full episodes here. And for those of you without Internet, exactly how are you reading this?