Quick Take: Eastbound & Down, "Chapter 10"
"As long as I win, who gives a sh*t?" - Kenny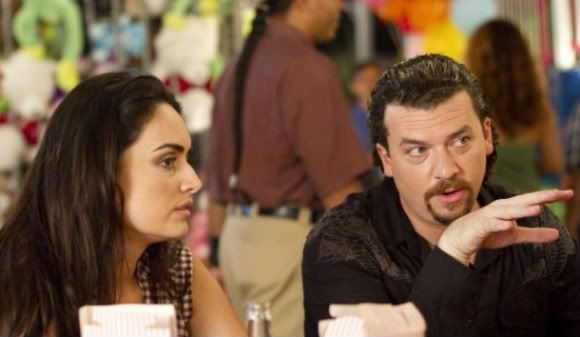 Review: Eastbound & Down, "Chapter 10"
(S0204) Kenny Powers (Danny McBride) is almost never really on top, even when he thinks he is. Really, the only time he ever was on top was when he won the World Series with an Atlanta baseball team that's apparently not the Braves. Since then, his career along with his ability began a downward spiral that led him to pitching for a Mexican team that no one cares about. Sure, he's pitching well and sure, he's in love, but these high points are all an illusion. Kenny isn't meant to succeed because he's a horrible, awful human being. Nice guys may finish last, but despicable people do too.
And yet, it's hard not to feel a little sympathetic towards Kenny in "Chapter 10." He may have misread Vida's (Ana de la Reguera) opinion on how strong their relationship is, but he truly felt he was doing the right thing when pledging his commitment to her. He even went so far as to connect her with Sebastian (Michael Pena), who has an elaborate recording studio in his mansion.
Kenny clearly saw Vida's eventual betrayal coming. When the main lyric to the song she wrote goes, "I want to be by myself," he tries to suggest altering it to better reflect how happy she should be in her new relationship. Vida and Sebastian disagree and she continues to push him further and further away. After finding out from Tony that Vida was recording late one night, he showed up to find her and Sebastian in a compromising situation. Locking the new lovers in the recording area, Kenny proceeds to satisfyingly destroy all of Sebastian's expensive equipment.
With a broken heart, the last thing Kenny wants to see is other people happily in love around him. Thus, when he comes home to find Stevie having sex with his new girlfriend Maria, Kenny kicks her out and forces Kenny to break up with her. Pretty cruel.
The one thing he had to fall back on was his baseball, but Kenny's self-destruction parade continues into that regard as well. After getting benched by Roger (Marco Rodriguez) for too much show-boating, he appears at a game in his civilian clothes with a soccer ball hidden under his shirt. To express his unending hatred of soccer, he makes his way to the pitcher's mound, sends the ball into the air, and whips out a pistol to blast a hole in it. He tosses the gun into the stands for a lucky young fan to cherish forever and quits the team.
With nowhere else to turn, he finally succumbs to his desire to find Eduardo Sanchez. And after at first assuming Sanchez was the director of The Blair Witch Project (ha!), Stevie finally tracks the mystery man down. Our heroes steal Sebastian's Lamborghini and drive it 100 miles away to a small farm where a man in working in the front yard. A gringo. Kenny's father. Played by Don Johnson.
What kind of fatherly advice will "Sanchez" have for his troubled son? And how did he end up in Mexico himself? Stay tuned because things are about to get interesting.
A few more thoughts on "Chapter 10":
Roger used to play for a Minnesota baseball team probably not called the Twins before his own hard-partying ways got the best of him.
I like how Stevie thinks the Eduardo Sanchez who directed The Blair Witch Project is still a directorial force to be reckoned with in Hollywood.
"Kenny Powers doesn't prance." - Kenny
"I hope I haven't intimidated you with my alpha-ness." - Stevie
Video: Eastbound & Down, "Chapter 10"
Check out a recap of the episode, from HBO: