Back in February, we posed then running Republican presidential hopeful Mitt Romney as "Duck" Romney, the "perfectly pandering patrician politician," due to the eerie resemblance in look, sound, and cadence to Mad Men's Duck Phillips (Mark Moses).
Now that Romney has selected Rep. Paul Ryan as his running mate, I couldn't help making another Mad Men connection: both the Wisconsin Congressman and fictional advertising executive Bert Cooper (Robert Morse) share a love for novelist and libertarian/objectivist icon, Ayn Rand.
Here's old Cooper himself explaining his philosophical views with Don Draper (Jon Hamm) back in Mad Men Season One:
"The reason I got involved in public service, by and large, if I had to credit one thinker, one person, it would be Ayn Rand," Ryan said back in 2005.
What other inspirational figures from Mad Men might we find in a potential Romney administration?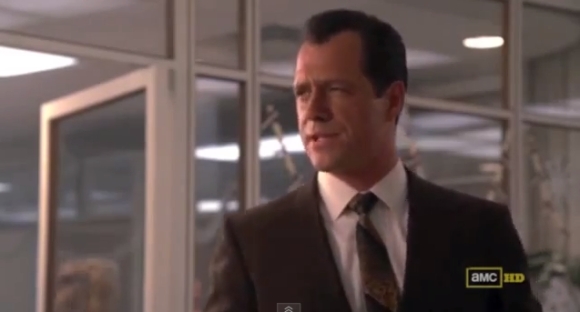 My money is on '90s GOP congressional leader Trent Lott making a comeback, if only so that he can channel the steely savvy and southern twang of one Lee Garner, Jr. (Darren Pettie), the Lucky Strike heir who pulled the plug on then fledgling Sterling Cooper Draper Pryce over a client dinner with Roger Sterling (John Slattery).
Can't you just imagine Lott saying, "It's just business, America," in the same way that Lee landed that gut punch to Roger?
In fact, that would be a great campaign slogan for both a Mitt Romney-Paul Ryan or Duck Phillips-Burt Cooper ticket:
It's just business.