Hey, do you like Modern Family? Then this is the category for you!
A whopping four actors from the show are up for the Emmy for Outstanding Supporting Actor in a Comedy Series this year, including last year's winner Eric Stonestreet. Chris Colfer gets a nod again for Glee, and Jon Cryer continues to inexplicably get nominated for Two and a Half Men (Jon Cryer is the alpha and the omega).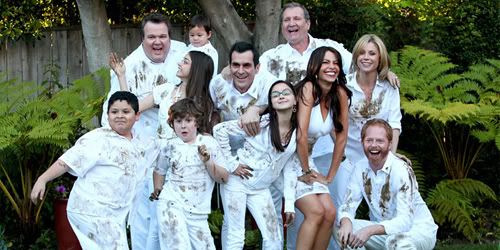 Nominees:
Ty Burrell (Modern Family)
Chris Colfer (Glee)
Jon Cryer (Two and a Half Men)
Jesse Tyler Ferguson (Modern Family)
Ed O'Neill (Modern Family)
Eric Stonestreet (Modern Family)
Who Should Win
Nick Offerman. Sure, he didn't get nominated for his stellar work as Ron Swanson on Parks and Recreation, but he still deserves to win this award. Well, since Offerman isn't nominated I suppose that Danny Pudi for Community is a... oh, right, he isn't up for this award either. Well, Stonestreet seems like a nice enough guy, and he's done some funny stuff on Modern Family. Let him have the Emmy again I guess.
Who Will Win
Will four nominations for Modern Family split the voting for those guys and let Colfer or Cryer win? It's possible, and Colfer does get a lot of praise for his work on Glee. As such, I think he manages to take the award this year, provided he has a strong episode to submit. I'm sure he can find one.