Quick Take: Entourage, "One Last Shot"
"You don't get a raise because you test well." - Phil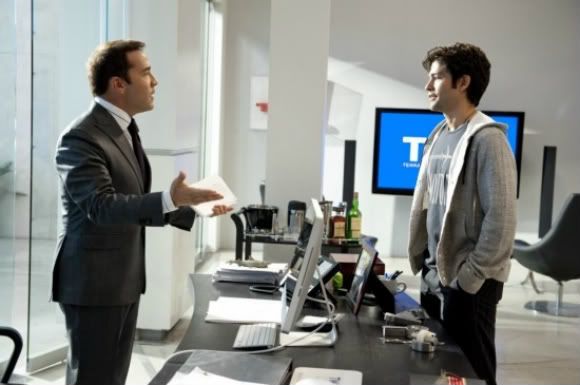 Review: Entourage, "One Last Shot"
(S0803) Dare I say it? I don't know, I'm scared. I don't want to jinx anything. Screw it, here goes nothing.
"One Last Shot" is actually a pretty damn good episode of television! And not even in a "pretty good for the lower standards we usually use to judge Entourage these days" kind of way. It was legitimately good, no caveats or qualifiers necessary. By no means is "One Last Shot" great, but it's better than we've seen from this show in years.
The episode features three main storylines and, believe it or not, when combined they actually resemble a cohesive TV plot -- not just a really long music video. Not only that, but somehow the writers seem to have figured out a way to get the audience to soften our stance on characters that we stopped rooting for seasons ago.
Story A involves Vince (Adrian Grenier) continuing his quest to turn his ridiculous trapped miners script into a CBS Movie of the Week. At an NA meeting, Vince runs into Carl (Kim Coates), a sleazy producer who seems to be a bit too interested in Vince's script. Carl calls Vince soon after their initial run-in and invites him to his home for a meeting. When Vince and Turtle (Jerry Ferrara) arrive, it's clear that Carl has fallen off the wagon in a major way. It's also clear that he has an ulterior motive for wanting to be involved in Vince's TV movie. He wants Vince to star in an upcoming project he's producing.
Meanwhile, Johnny tries to talk some sense into Andew Dice Clay, who is still threatening to walk away from Johnny's Bananas if he doesn't receive a raise. Johnny, Eric (Kevin Connolly), and Scott (Scott Caan) are on the same page: if they can't get Dice under control, they could lose the entire project. When Dice fails to show up for a voice-over session, he's immediately replaced with Jamie Kennedy. Now, it isn't immediately clear whether Kennedy is playing himself, or if he's a character. Trying to determine whether a B-list celeb is playing him or herself is one of the most interesting things about watching Entourage. I'm glad the show decided to portray Dice as the egomaniacal nutcase he appears to be in real life. I was worried they were going to try to convince us that he is really just a sweet, down-on-his-luck former star when there is sufficient evidence (listen his appearances on the Opie and Anthony Show) to the contrary.
The best part of the episode is watching Ari (Jeremy Piven) on his first post-separation date. Throughout the series, Ari has exuded an extraordinary amount of male sexual confidence, but since he was married and faithful, he was never forced to prove himself. Now that he's single, it's put up or shut up time. In "One Last Shot," Lloyd (Rex Lee) sets Ari up with his manicurist (or something like that), a lovely young lady who is little more than half Ari's age. Despite his braggadocio ("Women will fall and men will start wailing") Ari is clearly a bit nervous, but a round of shots loosens him up. Things peter out at the end of the date when Ari realizes how little he has in common with a girl in her early-twenties. So he calls up a woman he knows he has chemistry with, Dana (Constance Zimmer), and she invites him over for a night cap.
The episode ends -- wait for it -- with an actual ending, a real cliffhanger! Nobody hops on a plane to Vegas; there is no pool party, no phony resolution. And while the final scene isn't particularly hard to predict, it's nonetheless impressive. Carl, in the midst of a coke bender, locks himself in a bathroom. Turtle and Vince try to convince him to open the door and get some help, but Carl is too far gone. He does a line, reaches into a drawer and pulls out a pistol. He holds the gun to his chin, we hear a BOOM, the camera pans to Vince and Turtle's horrified expressions and the shot fades to black. Now that's the way to end an episode. Bravo, Entourage. Well done. Maybe a too little, too late, but I appreciate the effort.