Welcome to another edition of Mary's Week in TV Geek. While is has been a spell since my last entry, res assured that there has been much TV viewing in the interim!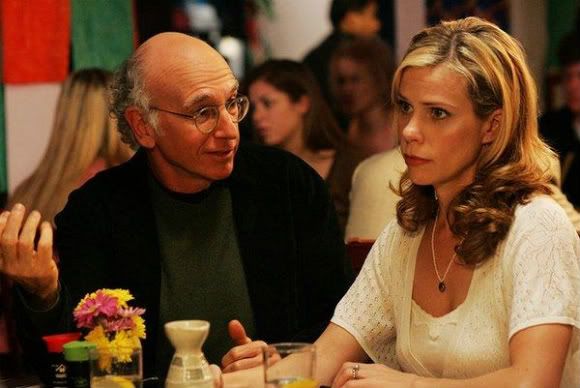 Curb Your Enthusiasm (HBO)
Oh, that darn Larry David. Season Eight finds our dear schmuck alienating Girl Scouts, battered women, and black men. In the season premiere, "The Divorce," Larry is finalizing his divorce (seemingly amicably) from wife Cheryl (Cheryl Hines). He's loving his lawyer, until he finds out that "Berg" is not Jewish, he's Swedish. In other events, Lary's trying to get on the good side of the Dodgers' owner (Gary Cole), so he promised to buy Girl Scout cookies from the owner's daughter. But when the young Scout came to take the order, the poor thing got her very first period. Sooo, Larry tries to help by reading tampon instructions through the bathroom door. If you ask me, the girl should have just gone home. It was a funny moment, but went on too long.
The following week's episode, The Safe House, was fairly funny, except the plot-line about Richard Lewis's new girlfriend and her ample bosom was not great. However, the bit about mistaken identity and the battered women was actually quite clever. I wonder what it would be like to actually have Larry David in my social circle. Interesting, I'm sure.
Entourage (HBO)
Entourage is back tonight (10:30pm) for its eighth and final season. At the end of last season, Vince was on shaky ground because of his lifestyle choices that included indulging in Vicodin, cocaine, and Sasha Gray the porn star. Eric struggled to find where allegiances truly belonged at Murray's management company, Turtle struggled with helping a reluctant Carlos expand his tequila business, and Drama went "bananas" when he found out a new show had been written expressly for him, but it's animated. Then he had to weigh his ego against a potentially successful show.
And as for Ari Gold, well, his marriage is strained, his reputation is stained, but he always has a way of bouncing back. We shall see.
True Blood (HBO)
Eric: "I know I'm a vampire, Snooki."
Sookie: "It's Sookie!"
Although the new season so far has had lots of cool moments, this is my favorite quote so far. We're only several episodes in of course, and there's a LOT to cover. Too much so in fact: that's my take on the new season. The first episode, "She's Not There," was overwhelming as they tried to fit in so much. Andy the cop is now a V addict. Sure, this sub-plot doesn't get much attention, and right now that's how it should be. Unless Andy holds the whole town hostage or something, let him have his V in peace. Jessica is back with Hoyt, but she still craves other blood. Tommy (Sam's brother) is living with Hoyt's mother. This is one creepy pairing. She thinks the world of him, while he is scheming to rob her. Nice lad, that one.
Here's the thing: when we last left the Bon Temps crew, Sookie was transported into the Faerie Realm where everyone has cool sun-dressy outfits and good skin. This new season opens and she's still there, but then she realizes that things are a bit off. She sees her Granddaddy Earl, who thinks he's only been there for a short while, instead of 20 years. Everyone is eating a glowing fruit, and they urge Sookie to eat it as well. She refuses, things get ugly, and now the façade is pulled away revealing this beautiful magic world to be a desolate, ragged land, and the faeries turn to zombies (or some other ugly type being). Finally, Sookie is free of the place, and appears in her local cemetery. Earl is with her, but he dies shortly after he arrives. She goes back to her house, and eventually learns that she's been missing for A YEAR.
Dear sweet Jason meanwhile has been held captive in Hot Shot (the little meth-cooking community run by were-panthers). Those crazy inbred folk captured Jason and clawed and bit him in an attempt to turn him into a were-panther. The intent is for him to start fathering a new generation of little white-trash were-panthers. Poor "Ghost Daddy" was then fed Mexican Viagra and was gang raped by the women of Hot Shot. Eventually he gets free, and is found roadside by Hoyt and Jessica, who feeds Jason her blood to heal him.
And the most interesting story line belongs to Eric. While attempting to confront and scare a coven, which included visitors Lafayette, Tara (who is now a cage fighter and having a lesbian relationship with a fellow fighter in 'N'awlins'), and Jesus in "the circle," Eric has a strong spell cast on him by the coven leader, Marnie. We learn that there is a connection involving the Spanish Inquisition (no one expects... The Spanish Inquisition!). Anyway, Eric has now lost his memory and is acting like a silly boy. Oh, and while Sookie was missing, he bought her house. That's right, he does not need that oh-so-important human invitation to enter her house, since it's his now. Tricky bastard. Or at least he was before Marnie's curse/charm/spell turned him into a man-child.
And lastly, Bill is the freakin' KING of Lousiana.
Torchwood: Miracle Day (Starz)
This season has surprised me, and in a good way. Amazing work by Bill Pullman, to start. As Oswald Danes, a convicted sex-offender and murderer, he was ready for his execution in prison, the sentence for raping and killing a 12-year old girl. But while his lethal injection was flowing through his body, and he was convulsing and flailing, an interesting thing happened. The drugs proved to be not actually, lethal. And this is the premise of Miracle Day, that death just stops. No one dies, no matter how grotesque and mortal their injuries or disease, no one succumbs.
I've been pretty ignorant of the whole Torchwood mythology. It is a spinoff of the well-known BBC series, Dr. Who, but beyond that I don't know very much. I've seen John Barrowman before – as Jack Harness. I had surfed to some channel that had this guy, in this coat, and there was talk about giving up kids to some other people, and now I realize that this was an earlier incarnation/season of Torchwood. But other than that, I don't know much about the show. However, I feel its appeal already.
There is a very interesting parallel between the Danes character and the real life drama of Casey Anthony. Where Danes was convicted, but set free because of the whole no-more-dying thing, Anthony was pronounced NOT guilty, but she is probably one of the most hated women in the U.S. right now -- her culpability in her daughter's death is the assumption of nearly everyone who has been following her story. Either way, the two have both been vilified in the press and on every social network imaginable.
Lauren Ambrose rocks it. She is fantastic as an aggressive PR chick who wants to exploit Danes and his story (she tells him she can "spot talent"). Except for the good lucks, she's unrecognizable from artsy and vulnerable Claire Fisher, from HBO's Six Feet Under.
Mekhi Phifer is also quite far removed from his ER character, Dr. Greg Pratt. He plays a CIA agent Rex Matheson who sees to be a bit of a loose cannon type, who was supposed to die in a terrible car accident, and now he's alive, but on how much borrowed time will be (hopefully) revealed as Torchwood: Miracle Day continues.
Monday Night Raw (USA Network)
Oh, yes she did. She... I mean, I meant to mention the July 18th airing of Monday Night Raw. It's not that I'm an avid fan, but there have been some big doings in the world of professional wrestling. Long, long time head of the World Wrestling Entertainment organization, Vince McMahon, was relieved of his duties Monday night by his son-in-law, Triple H. This came right as McMahon was to fire John Cena from the Raw roster.
Citing "extremely questionable decisions," Triple H, AKA "The Game" AKA "The "Cerebral Assassin," delivered the decision of WWE's board of directors, adding that McMahon's replacement would be Triple H himself. So, Cena is back in, McMahon might be sweeping floors and Triple H is riding high.