Quick Take: Entourage, "Stunted"
Entourage is something of a workhorse of a comedy, so let's see if there's still some legs to this thing yet.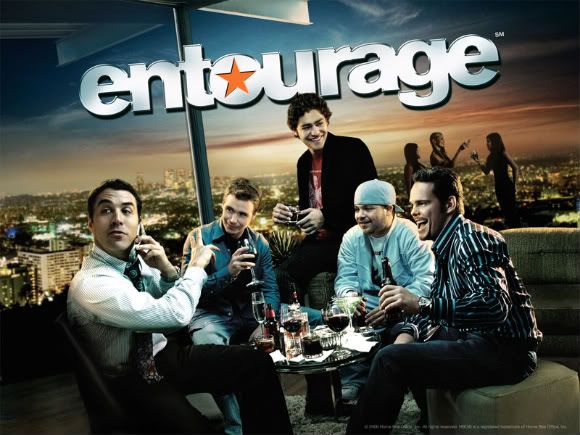 Review: Entourage, "Stunted"
(S0701) I recall watching Entourage's sixth season premiere ("Drive") and being happy to have the Entourage boys back for another go round. The chemistry was there, the excitement was there, and it was time to throw down for another good old fashioned round of Hollywood hijinks, saucy banter, and the mild dramas of the mega-rich and famous elite.
After watching "Stunted," the episode kicking off the seventh season (and can you believe we're that deep into Entourage's run now?), nothing had really changed save for the fact that the excitement factor was a little bit on the lacking side thus far. We've simply seen it all before: Vince Chase (Adrian Grenier) is on yet another set squabbling with a director (Nick Cassavetes in this case, over Vince doing his own stunts for some kind of adrenaline-fueled action flick), Turtle (Jerry Ferrara) is exploring career options (running a car service where the twist is that the drivers are attractive young ladies), Drama (Kevin Dillon) is fumbling toward his next TV project, while E (Kevin Murphy) and Ari (Jeremy Piven) continue to forge their way up the Hollywood power agent rankings.
The lack of originality would have been fine if there had been enough hilarity or other compelling elements to get the operation really popping, but it wasn't to be found. I must admit that I'm biased at the moment by my new obsession with Party Down, which just ended its second season on Starz. Not all that much really happens on Party Down, but the writing is so relentlessly raw, bold, and hilarious that it's become addictive viewing. So I really would almost have preferred seeing the boys hanging out in the mansion cracking wise and tooling on one another versus all of the respective career machinations that we saw here.
There's plenty of time for things to improve this season of course. Entourage is something of a workhorse of a comedy, so let's see if there's still some legs to this thing yet.
More thoughts on "Stunted":
"And everybody knows, Johnny Drama likes a good piece of meat." – Johnny Drama, in the third person
"You know Ari, for the most powerful agent in the world sometimes you're a real pussy." – E
Couldn't help noticing that Ari's getting a little softer in his old age… backing down from Cassavetes and even keeping it real with Drama over his latest fit over the prospect of helming his own show
Video: Entourage, "Stunted"
Here's a clip from HBO showing Drama's interaction with Lloyd (Rex Lee):
From Around the Web: Entourage, "Stunted"
Buddy TV: Already confirmed to appear this season are Diddy, Mike Tyson, Jessica Simpson, John Stamos and Stan Lee, among others.
A.V. Club: I don't truly know what it is about Entourage that brings me back. It reminds me an awful lot ofHeroes, my other "love," in that it used to be pretty good, and now the show has a) dragged on too long, and b) is actually not that far off from what it used to be.