I already miss him.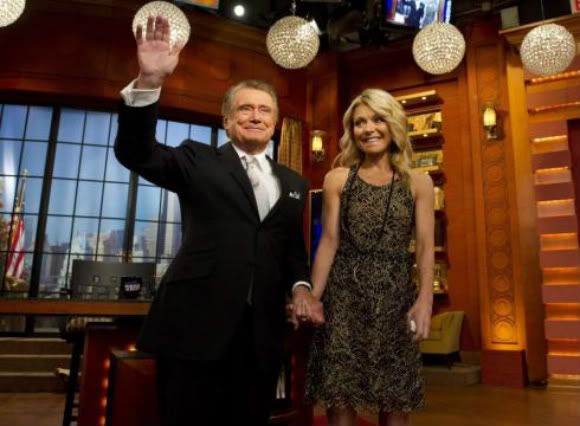 Regis Philbin had such an old school sensibility -- and a certain lovable grouchiness -- that I am going to miss him like crazy. This past week has been a wonderful victory lap for the guy, without question. David Letterman and Jerry Seinfeld have both been effusive in their send-offs. The on-the-lips kiss Letterman gave him on Live Wednesday was hilarious, and Jerry's appearance on Late Night that night was a total Reege-fest. Just as a side note, that whole show was one of the best Late Nights I have seen in ages. Seinfeld did a great routine about cell phones, talked about Philbin, then John Fogety ripped it up with some classic CCR material.
But I digress. The fact is, I am really sad about this. Part of me says that at 80 years of age, Regis should have stepped down a long time ago. His status as a TV legend has been secure for a long time now, and what else did he have to prove? I think of Andy Rooney, still at it at 92 -- literally just weeks before he died. He should have enjoyed a victory lap many years previously, but just wouldn't do it. Bob Barker stepped away from The Price Is Right very gracefully, and Drew has done an outstanding job as host.
The Live show without Regis Philbin is unthinkable. It may have once seemed ludicrous to compare him to Johnny Carson, yet that is the only valid comparison there is. Seinfeld once talked about the general feeling among comedians concerning Carson's eventual departure. And the question was always, "Who will replace him?' What he said later was that nobody realized that Johnny was taking "it" with him. The Tonight Show could go on forever in name, but what it was with Johnny Carson would never be duplicated.
It is exactly the same thing with Live. As hard as it may be for even Regis himself to believe, he reached the pantheon. He is an icon, and while he may have never quite hit the heights that Carson did as the King of Late Night, nobody will ever be able to him replace in the morning.
I watched this past week's Live shows like everyone else, and they were pretty great. The Kathie Lee appearance on Thursday was wonderfully appropriate, and one of my favorites. Nothing quite prepared me for the end though. Gelman and company did an outstanding job in giving Regis a send-off that hit all the right notes. But as 10:00 a.m. approached, and I realized that this was really it, I just found it hard to believe.
I think Regis did too. There was this look on his face, that was anything but confident. I mean you could honestly see the guy feeling the moment, and feeling that this was the end of the line. It was sad, and yet perfectly and absolutely right.
Carson made what I would consider the perfect departure from The Tonight Show. I feel that Regis' move was handled just as well. But that doesn't change the fact that I am going to miss the guy. Jeez, just watching him get pissed off at the phone during the Trivial Call made my morning. Not to mention all of the "only Regis would say that" type of comments. He was one of a kind, without a doubt.
I think I speak for all of the members of the TV Geek Army when I say we loved him, and that morning television will never be the same without him.