Quick Take: Flipping Out, "Wake-Up Call"
"Do you think I like to be angry? I don't." – Jeff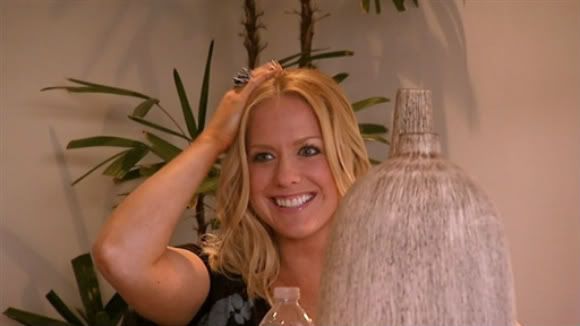 Review: Flipping Out, "Wake-Up Call"
(S0502) While this may sound exceedingly obvious to many, let's just go over the mantra of Flipping Out one more time: Jeff Lewis is a seemingly great designer but an absolute train wreck as a manager and boss.
Lewis makes the classic mistake of thinking of his employees as part of his "dysfunctional family," which allows him to toggle between varying roles depending on his mood and whim: snarky friend, enraged boss, bickering sibling, really enraged boss, and on and on.
The problem is exacerbated with the Sarah situation as she is related to Jeff via marriage (Jeff's current boyfriend Gage works for him as well these days, but that's a different story). Even from the earliest days of Sarah's tenure at Jeff Lewis Design, it was pretty clear that she's a sweet girl that completely lacks the exacting focus and elephant thick skin to survive for the long haul. The thing is that once Jeff gets a thought into his mind – there's "disrespect in the office," people are coming in late, Sarah can't remember anything ever – it gets locked into his Fixation Spin Cycle until the situation invariably comes to a head.
Everyone – Gage, Jenni, even Trace very likely and let's throw in housekeeper Zoila for good measure – wants Jeff to fire Sarah. She's a nice girl and so on, they feel, but her driving Jeff batty makes their lives living hell by extension and, so sorry, it's time to walk the plank.
Except Jeff can't quite pull the trigger, or push her off the plank, as it were. There is some good will involved here; Jeff doesn't want to fire Sarah just at the time when the Save the Date card for her wedding has arrived, and there's the fact that her father has recently thanked Jeff for "taking care of her." But really I think that flat out firing Sarah doesn't make sense to Jeff because that would create a clean break.
And Jeff doesn't want a clean break. He likes the cycle of dysfunction – it likely comforts him somehow.
But maybe that's getting a little too psychoanalysis-y about it. We've all had nightmare bosses that we've tried to figure out, and Jeff Lewis stands in as a nice proxy to try to unlock the mysteries of all bosses that have ever perplexed and vexed us.
More thoughts on "Wake-Up Call":
Jeff doesn't recognize Tommy Shaw from Styx, who happens to be Jeanne's husband… would anyone?
"I would want someone who looks like a stripper, I think." – Jeff on hiring interns
"I think Jeanne is nutty, but I respond really well to that." – Jeff
"Look at you, all cute today, and I look like a lesbian." – Jeanne
"I'm gonna put this in your file because that's a major screw up," Jeff tells Sarah. I was incredulous that Jeff actually kept such "mistake files" about his employees but it turns out that I was wrong.
"Let me explain LA. There's traffic every f—king day of the week!" – Jeff
"These people have one day to impress me." – Jeff on interns
"You want me to quit my job?" – Zoila
"Jeff, go sit on that toilet." – Jeanne
"My advice is don't make it worse. Fire her." – Jenni