Quick Take: Franklin & Bash, "Pilot"
"I'm representing medical marijuana against the city. So if you need some samples, ding dong." - Franklin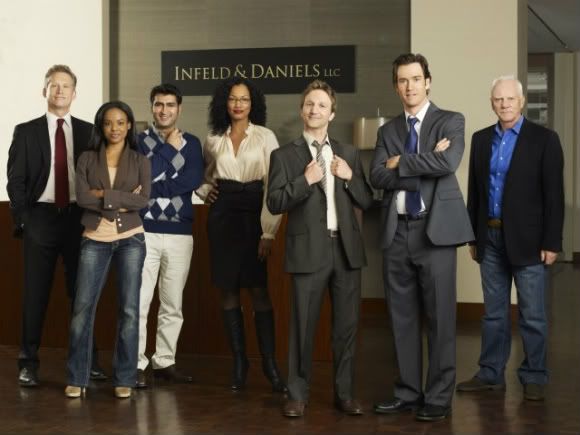 Review: Franklin & Bash, "Pilot"
(S0101) When I was younger, I had briefly considered becoming a lawyer. But then after reading in the history books about the likes of mega-losers Clarence Darrow and Abraham Lincoln, I realized, lawyering is totally lame. I bet those guys never picked up hot chicks. I mean, have you seen Mary Todd? Nasty. So I quashed those scholarly considerations because someone as hip as me couldn't be employed as a professional dorkwad.
But after seeing the premier of Franklin & Bash on TNT, I may have to reconsider. Because, man, are those lawyers cool.
Peter Bash (Zack Morris) and Jared Franklin (the dude from Road Trip who isn't Stifler or Tom Green) are two long-time legal partners who have become famous around L.A. for their unconventional (as in badass) approach to the law. After they use a buxom stripping witness (NICE!) to win a case against a company that erected a distracting billboard, they gain the attention of Stanton Infeld (Malcolm McDowell), the head of the biggest law firm in the city. Their brash ways reminds him of his youth (probably when he was at Woodstock or something awesome) and hires them on.
You'd think that F&B would take it easy their first week on the job. Get a lay of the land, so to speak. But you, my friend, don't know Franklin and Bash. Immediately, Bash goes about defending a dominatrix (where do they find these cases?!) after she was accused of prostitution. His main argument in her defense is that the man she was accused of soliciting actually loved her and never paid for any actual sex. The man in question claims he never loved her, but Bash just plants enough doubt in the jury to get his defendant off. (And as Bash tells Franklin in the episode, "don't go there.")
And just when you thought a womanizer like Bash couldn't settle down, we learn that he's still in love with the assistant district attorney, Janie Something. But (twist alert) she's engaged! I have a feeling though, Bash might just have what it takes to win her back. (I hope so, because if a guy like Bash can't find true love, what chance do I have?) (Whoa, that got personal)
Meanwhile, Franklin is assigned to shadow another, much more evil attorney at the firm (who just happens to be Enfeld's nephew) in his defense of an airline pilot being sued by the passengers that were injured in a daring emergency landing that also saved their lives. Unfortunately, evil lawyer jerk isn't very good with the press and when a tough question comes up about some possible sexual indiscretions between the pilot and a flight attendant, Franklin and Bash are forced to put on a fake fight in order to distract the reporters. (Law School 101)
Eventually, the airline (an evil airline just like the douche attorney, obviously) decides they want to distance themselves from the case and put all of the blame on the pilot (who we learn is actually a totally cool, down-to-earth, hot-tub-loving dude, just like Franklin and Bash, but older/balder) (speaking of hot tubs, Bash totally tubs-it-up in his birthday suit. He's so in your face!). One of the duo's assistants, a germaphobe-with-a-heart-of-gold named Pindar catches the airline exec and the evil lawyer (he's so evil, I didn't even bother remembering his name!) on a secret video tape and tells Franklin (mid-coitus mind you). But because of his condition, Pindar is too scared to testify in court. And totally ralphs all over the other assistant's (ex-con-with-a-heart-of-gold) car.
So despite all of Franklin's best efforts, the airline is able to remove themselves from the case and leaves the pilot in the dust. Ah, but you can't keep a Franklin down and he goes to the company's shareholder meeting (planned for some reason immediately after a court date) and tries to accuse evil airline exec and evil lawyer of evildoing. Except, bummer man, he's got no proof, just hearsay. Until, bam, Pindar faces his fears and shows up (via the bus no less) and begins to announce what he saw. Before he finishes, thereby crushing the airline's goodwill or something, Franklin gives the exec the chance to re-hire the pilot and proclaim him in public as a national hero. Airline exec accepts because, come on, you just don't say no to Franklin. (HIS DAD'S A FAMOUS LAWYER TOO OKAY!)
Now some might call a show described (by me) as Entourage meets The Practice as insulting to the intelligence of TV viewers. I say it's insulting to dorks who can't get girls. And who cares about those dorks, am I right?
You don't like it? I object.
Lingering thoughts:
Would you get punched in the face by Mike Tyson for a night with Scarlett Johansson? Um, yah.
Bash used to have a soul patch. Maybe I should get one?
"Sorry, sorry. Jean Claude Van Damme marathon last night. Unavoidable" -- Franklin (classic Franklin) (smirks)
"Hey, scrotum face, come on." -- Franklin (classic Franklin) (shakes head; trying to hide a grin; can't)
"That's a bitchy little barracuda." -- Franklin (classic Franklin) (buries head into hands; muffles laughter; shoulders bouncing wildly)
"I got something she can bury" -- Franklin (classic Franklin) (rofl, but literally)
"I don't shadow, I cast shadows." -- Franklin (classic Franklin) (nods head solemnly)