"Clear eyes, full hearts, can't lose."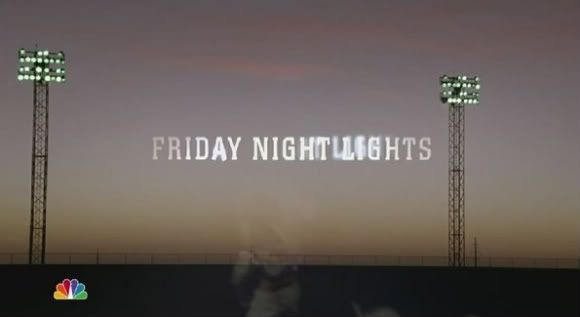 It was five years ago that Coach Taylor, his wife Tami and the Panthers came into our homes and stole our hearts. Set in the small town of Dillon, Texas, Friday Night Lights focused on the trials and tribulations of the Taylor family, with Eric as the head coach of the Dillon Panthers and wife Tami as a counselor at the school. The show displayed Dillon's obsession with Panthers football, but also tackled issues such as teen pregnancy, abortion, adultery, rape, first love, heartbreak and just about everything else you could think of. Friday Night Lights didn't need to rely on extreme storylines and the characters didn't need to be your more typical television professions of doctors, policemen, lawyers, and so on to be interesting. The show was unique for daring to show everyday situations and painting a portrait of American life in a small town.
One of the things that made this show brilliant is the characters and how real they are. They make you smile when they are happy and cry when they are sad. You root for them when they are trying their hardest and angry when things don't go their way. When they make mistakes, you want to forgive them. It is the fact that we become so invested in these characters that make this show so powerful.
It wasn't just the situations that make you really feel for these characters, but also the acting. Scott Porter was fantastic while we watched Jason Street dealing with being paralyzed and not able to live a normal teenage life. Taylor Kitsch brought life and emotion to the bad boy Tim Riggins, who acted like he didn't care on the surface but had a soft spot for things that mattered to him the most. It showed how much the character had developed when he went to jail for his brother so his nephew could grow up with a father.
Kyle Chandler and Connie Britton also brought perfection to the show, portraying one of the more realistic marriages on TV. As Eric and Tami Taylor, they have a bumpy road throughout the series, but they make it work and support each other throughout. They showed what it is like to love someone through the best and worst times of life.
One of the most heartbreaking moments of the show came during "The Son" in Season Four. In the episode, Matt learns his father has died in Iraq and Zach Gilford gives one of the strongest performances (it is a crime that there was no Emmy nomination for this!) of the series. It is gut-wrenching to watch as he breaks into the funeral home where his father's body is and ends up begging to see him. This was a devastating moment, and one of the most gripping scenes I've ever seen on television. It is these types of moments during the show that make you care about the citizens of Dillion and what happened in their lives.
Everybody dealt with their own problems, but supported each other throughout hard times too. Whether it was a parent dying, dealing with an unwanted pregnancy, being fired, moving schools, leaving for college, going to jail, being abandoned, and so on, there wasn't a situation where familes and friends didn't take care of each other. There was a level of devotion and it was really showed in Eric with his players and Tami with her students. They went through tough times together and the relationships these characters had with one another was what made Friday Night Lights compelling.
There are so many great moments throughout Friday Night Lights, but this final season has proved that it is one of the best shows on television. It is disappointing that hardly anybody has recognized it and the show has not been given the full praise that it deserves. So, thank you Friday Night Lights for being an amazing show. Thank you for the situations and relationships we could identify with. Thank you for showing us what love and friendship means. Thank you for giving us five remarkable seasons of television that we won't forget.
The series finale of Friday Night Lights airs tonight on DirecTV at 9:00.
Texas forever.
Video: Friday Night Lights
Check out "Thanksgiving" from Season Four in full from Hulu, while available: