Quick Take: Friday Night Lights, "Stay"
"Was she the love of your life?" – Becky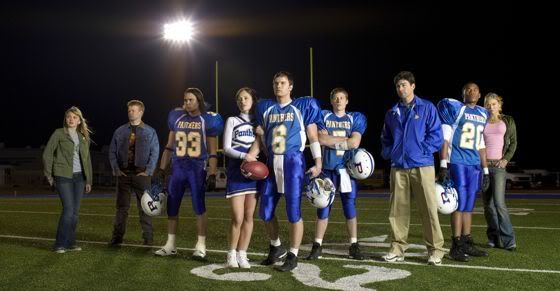 Review: Friday Night Lights, "Stay"
(S0406) These last few episodes have brought home for me that Friday Night Lights is a significantly different show this season. It's still a great show for all the reasons that it always was, mind, but the focus has shifted off the gridiron more and more consistently than it ever has before. In the early seasons, the big game was, well, big. It still is big for the kids of East Dillon, but it's obvious and intentional that the most important emotional beats are taking place in locations like a trailer with a former high school football star conjuring mythical scenarios to keep his old sweetheart in town for a little while longer, and with a high school football coach's daughter fighting through the pain of knowing that she's now the only reason her boyfriend is still in town, and knowing that that's not enough for either of them.
Friday Night Lights has always been at turns exciting and involving and interesting and moving, but it has really hit its dramatic emotional peak with this episode and last week's "The Son," which centered upon the death of Matt Saracen's (Zach Gilford) father while off in combat. I mentioned in that review that it took me a little while to adjust to the fact that while the football-related action and Coach Taylor's struggles with his program are still important, they are no longer what are most important about the show.
And that's a good thing. Thematically, FNL is exploring small town life but also the challenges of our modern and mobile society – it's easier and even more advantageous to leave home for more reasons (school, work, the lure of an exciting locale) than ever before. That mobility hurts though. It hurts the fabric of the kind of town that Buddy Garrity and the boosters grew up with, it hurts those left behind, and it hurts those too who leave and break apart to something new and potentially but not necessarily better.
There's been a lot of chatter about how great Zach Gilford has been on the show, and it's all deserved. I've always found Matt and Landry (Jesse Plemons) to be two of the most unique characters on television. Understated, mumbly, intellectual, and artistic high school football players from small town Texas: who would have thunk it? But when Landry reminds Matt that no matter how he acts out/reacts to his father's death that he'll always be there for him as his best friend (no matter whether he likes it or not), it's incredibly affecting.
I loved too the nuance in how Matt's leaving Dillon and in effect breaking up with Julie was handled. More was implied than said between the two, and Julie's (Aimee Teegarden) emotional distress at simply knowing Matt was leaving felt real and unforced. That played beautifully against the simply haunting shot of Riggins (Taylor Kitsch) standing by his pickup truck, watching Lyla (Minka Kelly) get on a bus to head back to college life, and out of Dillon, perhaps for good.
So that was all going on while East Dillon geared up for the big game of the week against undefeated McNulty. The wildcat offense was back in effect, with Vince emerging as a star player along with Luke Cafferty (Matt Lauria) to give Coach and East Dillon a shot week to week. Looks like the defense finally started to solidify as well as they ended up losing by a very respectable 14-7 against a team with a shot at State. Final grudge match and showdown coming up at some point between Dillon and East Dillon, you'd have to think. Will the local sports radio guy's head explode in the excitement leading up to that one?
More thoughts on "Stay":
"I don't know if you know this but I'm kind of a moment to moment guy." – Riggins
"Everyone keeps asking if I'm okay." – Matt to Landry
With Matt gone, any chance Julie will hook up with J.D. McCoy?
Matt and Julie go to a SXSW-like music festival and see a band called the Heartless Bastards. That sounds like something to break a promise to your parents to check out!
"The more we try to make her stay, the more she's gonna stray." – Eric Taylor (Kyle Chandler)
"It's the capital." – Julie
"In Sears?" – J.D.'s goons in unison as they torment Luke and Vince. Ironic that McNulty is the name of East Dillon's opponent with Michael B. Jordan playing Vince, who was the tragic figure Wallace on The Wire (where McNulty, played by Dominic West, was arguably the lead character), no? Anyone?
"That was the landlord's daughter." – Riggins with regard to Becky (Madison Burge). "Um hm." - Lyla
Again, do age restrictions on drinking exist in Dillon, Texas? Or do the kids have amazing fake IDs – even Riggins and Lyla are supposed to be 18 or 19, right?
More Riggins and Lyla: "What do you want?" "You." "What else do you want?" "You."
"Goodbye, Lyla Garrity." – Riggins
"Was she the love of your life?" – Becky
Video: Friday Night Lights, "Stay"
Check out the staying power of FNL in full while available, from Hulu:


Recap: Friday Night Lights, "Stay"
When the Lions face their strongest opponent yet, Coach searches for a strategy that will shut down the other team's fabled juggernaut offense.
From Around the Web: Friday Night Lights, "Stay"
A.V. Club: Friday Night Lights has always handled this relationship beautifully and here, at its probable end, they don't make any exceptions. The Matt/Julie scenes rhyme nicely with Tim and Lyla's, the foregone conclusion of the latter's brief encounter making Matt and Julie's Austin weekend seem that much more melancholy. If neither knows it's the end of their time as a couple going into their trip to the SXSW-inspired Austin Music Festival, neither harbors any illusions at the end, even if neither will say it out loud.
More A.V. Club (who always rock it): Gilford's quietly soulful performance has long been the heart of the show, and his character has captured everything great and frustrating about carrying all the virtues of growing up in a small town in your heart while aching to leave it for the bigger world promised you by Dylan songs. Gilford's handled the role with understatement and nuance, and he's never been better than in the last couple of weeks when Matt's been forced to deal with his father's death.
IGN: Eventually, the Lions have to win, right? Will it be when they face the Panthers? There certainly can be some great drama there. In the meantime, I was impressed that the writers didn't play into expectations and have their losing streak broken in this episode, which raised the stakes as the Lions were facing an undefeated team, on television no less. And Stan's impulsive "guarantee" to reporters that the Lions would win only put more pressure on them.