If you're a fan of Fringe, then you know it's been a long time coming for Agent Astrid Farnsworth to have her own character-centric episode. Four seasons if you're counting, but Fringe fans and actress Jasika Nicole are a patient bunch. Luckily, everyone is rewarded with the new episode, Making Angels, airing Feb 3 at 9pm (EST/PST), that focuses on the Asperger's data savant Alt Astrid crossing over to meet Over Here Astrid.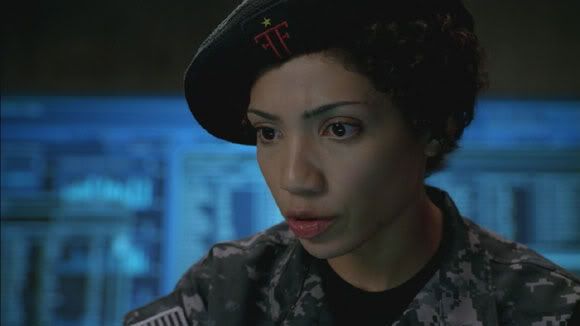 Confusing? Maybe a little but not when you see how beautifully Nicole creates two incredibly different performances, well, against herself, all by herself. It's something John Noble and Anna Torv have been doing on-screen for quite some time now with their various versions of Walter and Olivia, but now it's Jasika's turn and she knocks it out of the park.
In a conference call with Nicole yesterday, the actress shared some important moments for her and for the Astrid's that fans should look for tonight and as the season progresses.
On playing against herself
It was actually pretty overwhelming to play against myself. Not only because it was the first huge episode that I had just as an actor. But I was kind of doing double-duty as both Astrids. She's got these really emotional scenes. What would normally take us maybe four or five hours to complete took us about eight or ten hours because we had to do it twice essentially. And there was actually one scene where they're both Astrids and both Olivias and then Walter and Peter. So, it just took us all day long. Anna Torv actually pulled me aside and gave me all these tips on how to do it because she's the one who plays her doppelganger in most of the show.
On which Astrid is harder to tackle
Alt Astrid is much more challenging to play just because she's so physically different than I am. I didn't even realize but after the first several months of playing her I would come home with a headache every single day. And it's because she's so stiff in her movements, and she's just got these mannerisms that I don't have and my body is not used to them. Also, because she speaks so quickly that I have to know my lines like, backwards and forwards because she spits it out really, really, like spitfire quick.
On what's been the biggest challenge with this new season
I think that the biggest challenge that I went through was this season, actually, when we started this new timeline. Then, I realized that all of the relationships were different now that Peter had never been a part of our lives and we didn't know who he was. But, specifically, the relationship between Astrid and Walter was really different because Olivia was more his confidant, his caretaker. He would seek her out when he was in a bad place and needing help and he didn't really go to Astrid so much. She was more his babysitter than his friend.
On the unexpected upside of this season for Astrid
I think the difference between the relationship with Astrid and Walter was a little bit sad for me to part with. But what I gained from that besides creating this idea that she's the only person that's welcoming to Peter is that she's got this really lovely kind of like BFF relationship with Olivia that we never got to see before. And I absolutely love that.They have a very similar difficult job. They work with the same crazy people. So that was a really, really cool part of this season is seeing Olivia and Astrid hang out together. And now I have this idea that they probably go out for wine twice a month or go to see a movie or something like that because they're with each other so much of the day that they have to depend and rely on each other more. We do have a couple more coming up which is really awesome, and maybe even more for the rest of the season. So we'll see.
On why she thinks fans are so supportive and interested in Astrid
I thought about it a lot actually and I think, ironically, that one of the reasons people like her so much is because they don't know that much about her. I think that apart from the Observer she's kind of the most mysterious person that's involved in the show. And to have this really young invested FBI agent who shows up to work every day with a smile on her face that tries to keep the energy up and is generally always in a good mood. You wonder how is she handling all this when she goes home. So I think maybe that's one of the reasons that people love her so much because they've, kind of, had to create a whole story for her since there hasn't been given to her.
Fringe airs Friday nights on Fox at 9 pm (EST/PST).