It's hard to believe that the animated comedy Futurama has been on the air for 12 years. Okay, well let's clarify that it hasn't actually been on for an uninterrupted decade because the series started on Fox, ran for four years and then fell into a wormhole we like to call cancellation. Yet like a mighty space phoenix, Futurama was resurrected in 2007 as a series of direct-to-DVD movies which were then repackaged as new episodes that aired on Comedy Central.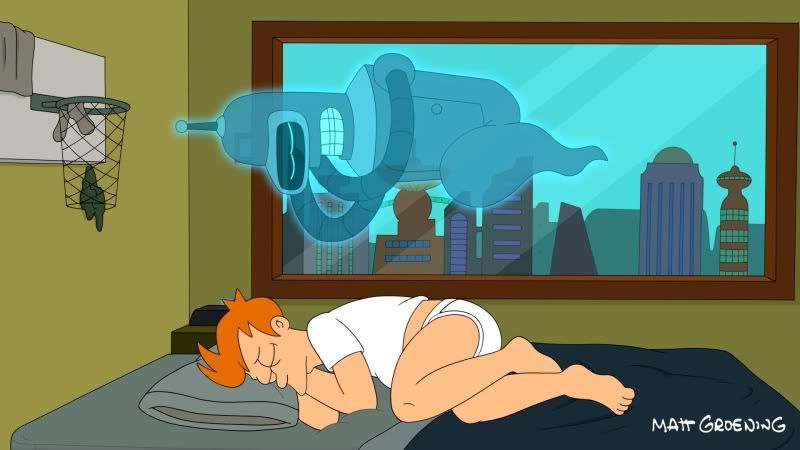 Still following?
Fans were so happy to see 31st century citizens Fry, Bender, Leela and the whole Planet Express team of misfits back on their TVs that Comedy Central ordered a brand new sixth season of 26 episodes that started airing in the summer of 2010. Now the second half of season six airing on Thursdays nights at 10 p.m. (EST/PST) and to fans it's like the show never skipped a beat. Executive producer David X. Cohen along with his staff of writers and the original voice cast are still knocking out their own unique brand of social mockery and mind-bending sci-fi paradigms coupled with emotional storytelling.
We recently got to chat exclusively with Cohen about the success of the show's return to episodic form, what fans can expect for the season finale and what's to come in season seven.
After the initial run of Season Six, how pleased, and maybe relieved, were you to discover that the fans never left and were ready to embrace Futurama anew?
David X. Cohen: Of course, I can't help but be pleased because it was kind of a shaky proposition when we started coming back with a small staff returning to the regular TV episodes that we haven't worked on for about six or seven years at that point. We were confident perhaps, but not justifiably so. [Laughs]
It was announced in March that Futurama was being picked up for a seventh season of 26 episodes, but with the long-lead times needed for animation, when were you told?
Cohen: We heard it was under discussion for awhile and we asked them to keep it moving along because we still had most of our staff and our cast available if they could make the deal and they did it. Usually these things drag on for a year or more but we kept our whole staff and the whole cast back as well.
This season what kind of stories have you and the writer's been interesting in exploring?
Cohen: One area we've gone into a couple times is a little more into the back stories of the characters. We had one on last summer about Hermes and Bender's backstory. We have another one coming up this summer called "The Tip of the Zoidberg" where we will answer the question about why they keep Doctor Zoidberg at Planet Express when he is so horribly incompetent. I always wondered myself but I figured he had some dirt on the Professor. We have another one called "Cold Warriors" where we get into Fry's childhood. We're trying to enrich the characters that we have and reward the fans who have been with it awhile with a little more understanding of where they are coming from as opposed to adding a new baby to the staff. [Laughs]
Another recent decision we made about season seven is to stop paying as much attention to what The Simpsons has done because we have been trying a little bit to avoid being compared to them. But we finally decided after 500 episodes that we're going to stop thinking about it and we're going to do an episode where Bender becomes a paparazzo even though Homer did that. However our robot version in the year 3000 will be very different. [Laughs]
Any new characters from season six you love and will bring back again?
Cohen: Yes, in the "Futurama Holiday Spectacular" we met these two fembot mud wrestlers named Ruth and Esther. They will pop up a few times in the new season in 2012.
Are you doing something special for your season finale?
Cohen: It's interesting when we were working on the last episodes for this summer we didn't know if we were coming back. We had written the script months before we got word, so once again we didn't know if we were making our last episode ever. We decided to do a two-fer. Our second to last episode is "Overclockwise." Bender's processor is running at a faster speed than ever before and suddenly he's becoming a super-intelligent, God-like being that can see into the future because he is calculating so fast. Meanwhile, Fry and Leela are reconsidering their relationship and what their future holds. It has a good ending with lots of crazy sci-fi.
The final episode called "Reincarnation" where Futurama is reincarnated in three different styles of animation. The idea is that each episode culminates with a climax that is particularly unsuitable for the type of animation we are seeing. People can attempt to see the irony twist at each climax. If it had been the last episode, we would have gone out with a bang.
Season Seven will air in 2012 and 2013. Have you started writing already?
Cohen: Yes, we are doing 26 more and we're just getting started.
What lessons did you learn from six that you'll apply to seven?
Cohen: The big lessons we've learned over the years. I like to point out that early on we weren't sure how big we could go with the sci-fi and still have people on board. The grand lesson of the show is that it doesn't hurt the comedy to go for these weird sci-fi ideas. Our fans are onboard for whatever crazy idea we're willing to throw at them. We also take the sci-fi seriously when we're telling it.
New episodes of Futurama air on Comedy Central Thursday nights at 10 pm.