Many months ago I learned that HBO was taking on the fantasy genre in a big time way by adapting a series of books by some guy named George R. R. Martin.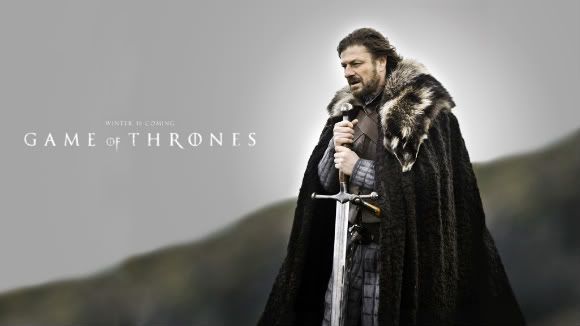 I'm not typically a big fan of fantasy, but I decided to check out the first book, Game of Thrones (for which the HBO series draws its name; the series is known as A Song of Ice and Fire), as a lark. I'm so glad that I did, as I'm now deep into the fourth thick volume, A Feast for Crows, and I simply can't get enough.
Now of course, that doesn't mean that the HBO series will be anywhere near as good, but from what we've seen I believe that the TV show will make a serious play for fantasy fans and noobs alike.
When I tell people about A Song of Ice and Fire, I like to point out that while the series falls roughly under the realm of "fantasy," one the better tricks that it pulls off is that while magic exists in the seven kingdoms of Westeros and beyond, it is rarely if ever seen. Much more at the forefront is a marvelous clash of political entities, chock full of complex personalities who are ever scheming and clawing for their own ends. Roughly modeled on medieval Europe circa the Wars of the Roses, there's lots of knights and armor jousting tournaments and castles (replete with fun things like "murder holes") and banners that represent the family or clan.
Possibly what I like best about the series is the political machinations, the fierce competition both between rival alliances and within them, the loyalty and betrayal, the exquisite and harrowing "blind sides" that go far beyond anything Survivor has ever served up. In fact, I've thought often while reading that there are no safe havens here: every single character we meet is forced to act as though their life depends upon it, because it does. The famous quote pulled from A Game of Thrones – essentially boiling down to "you win or you die" – can easily apply to each character's journey.
Most of all though it's the deft storytelling that keeps things chugging, and I'm hopeful that the TV series – with which Martin himself is closely involved – can get the pacing and story development right. To be sure there's a nearly overwhelming amount of source material as the existing four books (with a planned three more on the way) already comprise several thousand pages. And Martin surely was influenced to some degree by Tolkien's Lord of the Rings in the manner in which he has created one of the most detailed fictional worlds ever put to print. There are countless places in the books where historical eras, people, battles, realms, and cities are referenced that don't even directly concern the hordes of characters that are introduced throughout. For example, a city called Oldtown is occasionally referred to over the course of the first three books. It's a place where "maesters" – a rough mesh of doctor, professor, and adviser/consigliere – are trained. In A Feast for Crows, a number of scenes finally take place there. The same is true with characters as well; there are a number of them that are referred to for many chapters or even books before we end up seeing them up close.
That's all to say that it will be fascinating to see exactly how this sprawling epic gets translated to screen. Note that I haven't even tried to specifically explain the multitude of characters and the landscape that kicks off the beginning of the series. Here's how HBO sets the stage:
Summers span decades. Winters can last a lifetime. And the struggle for the Iron Throne has begun.
It will stretch from the south, where heat breeds plots, lusts and intrigues; to the vast and savage eastern lands; all the way to the frozen north, where an 800-foot wall of ice protects the kingdom from the dark forces that life beyond. Kings and queens, knights and renegades, liars, lords, and honest men… all will play the 'Game of Thrones.'
Check out the first fourteen minutes of the show, an "exclusive preview" made available by HBO:
If nothing else we see that the production is absolutely gorgeous and richly and detailed, and I'll go so far as to say that I'm setting the bar pretty far for this one already – it looks damned good. And here's a nice long making of featurette:
Game of Thrones premieres on HBO tonight, April 17th, at 9:00.